Editorial: Breaking Through
"Nowadays, I am acutely aware of the power of transgenerational trauma that has come to life in new circumstances. I feel like it's getting scary to speak openly. This is what was passed down to me from my ancestors from the USSR, what the people already lived during the oppressive Stalin years." Finding a Voice recounts a special day in the life of Elena Ozerova: her ten-year-old son's graduation from elementary school. "Last week," she writes, "my son asked me to explain what is happening between Russia and Ukraine. He wants to know: Are we good or bad? Are we attacking or defending? My son is no longer a small child but not yet an adult. He wants to draw together with his classmates, write letters (to the soldiers), be a good kid and send sweets to the defenders of the country. He wants to feel like a part of something good."
Ozerova writes from Moscow, but as a mother, she could easily be writing these words from New York, Jerusalem, or Kabul.
 "The country he dreams of being a part of is kind and noble, driven by justice and dignity, where people live in peace and travel the world…I love my son very much and I love my country, but to my regret, this ideal country has never existed." Ozerova's anguish is being felt the world over. (…)
Contributors
Daniela Andronache • Deborah Dancy • Lia Dostlieva • Elizabeth Cutter Evert • Linda Hillringhouse • Levas Kovarskis • Nancy Kuhl • Jeanne Parr Lemkau • Ellen Luborsky • Mary Mykhaylova • Lavinia Munteanu • Elena Ozerova • Doug Pagitt • Cosimo Schinaia • Olga Shtonda • Erin Trapp
ROOM 6.22 is available at most online book retailers around the world, including:
Editorial: Struck Anew
Shock occasions change. Five years ago ROOM flashed into being as an immediate response to the 2016 US election. Psychoanalysts who had never written before felt compelled to write.   
ROOM has remained a participatory community platform, grounded in a psychoanalytic understanding of how change happens. Each issue archives a new moment. Each is a "working-through" of that which has already passed.
But now we are struck anew. Russia's invasion of Ukraine occurred during the final weeks of production of this anniversary issue. Still, the questions posed by the contributors in ROOM 2.22 are eerily prescient and speak collectively for all of us. Each looks toward a future none can envision. (…)
Contributors
Abdulmueed Balogun • Jorgelina Corbatta • Fang Duan • Elizabeth Kandall • Ryan LaMothe • Jeanne Parr Lemkau • Kyrie Mason • Christina Nadler • Kelin Perry • Ashley Renselaer • Shelley Rockwell • Loren Sobel • Liliana Zavaleta 
ROOM 2.22 is available at most online book retailers around the world, including:
ROOM 10.21
Released: December 2021
Editorial: Solastalgia
"Ever since college, I have had only one goal: to become minister of education and change the system in Afghanistan […]. I have worked so hard to reach this goal. Every night before going to sleep, I imagined myself in a ministry chair as secretary of education, but now I find myself imprisoned in the corner of a room." With "tears in (her) eyes" a psychology student from Kabul University recalls August 15, 2021, the day her "palace of dreams" was shattered.
"When our colleagues are threatened by murderous power, we bring them close to us and make a home together," Carter J. Carter wrote in his introduction to "Names Withheld: From Afghanistan." This is not a single essay. It is a communal cry for help in the midst of crisis and terror. Along with messages sent by two psychology students from Kabul University whose futures are now unthinkable, "Names Withheld" holds a poem in the form of an email sent from their professor Sayed Jafar Ahmadi and the story and image of a precious painting that Dr. Ahmadi has taken with him into hiding. (…)
Contributors
Sayed Jafar Ahmadi • Carter J. Carter • Eric Chasalow • Patricia Ticineto Clough • Katie Gentile • Wendy Greenspun • Naomi Janowitz • Lee Jenkins • Kerry L. Malawista • Kathleen Del Mar Miller • Angyvir Padilla • Sandy Silverman • Susanna Stephens • AyŞe TekŞen
ROOM 6.21
Released: July 2021
Editorial: Close Up
"An urgent sense of the possible contributed to my pursuit of psychoanalytic training over a decade ago, back when CO2 levels were still below 400 ppm. At the time, my analyst and my own analysis were introducing me to an unanticipated world of depth, beauty, and tolerable terror from which I rarely wanted to surface." So begins Susan Kassouf's essay, "A New Thing Under the Sun." Kassouf quickly recognized that her new profession did not lend itself to thinking about the "more than human" environment, let alone climate catastrophe. "There was no useful language to describe what I was sensing," she writes, so she creates the word she needs. Elaine Zickler understands Kassouf's drive to find the right words. (…)
Contributors
Umi Chong • William F. Cornell • Karim G. Dajani • Santiago Delboy • Richard Grose • Anton Hart • Mark Singer • Betty P. Teng • Jane Lazarre · Susan Kassouf • Brent Matheny • Dinah M. Mendes • Celeste Kelly • Jo Wright • D. Dina Friedman • Linda Hillringhouse • Jacqueline Shatz • Elaine P. Zickler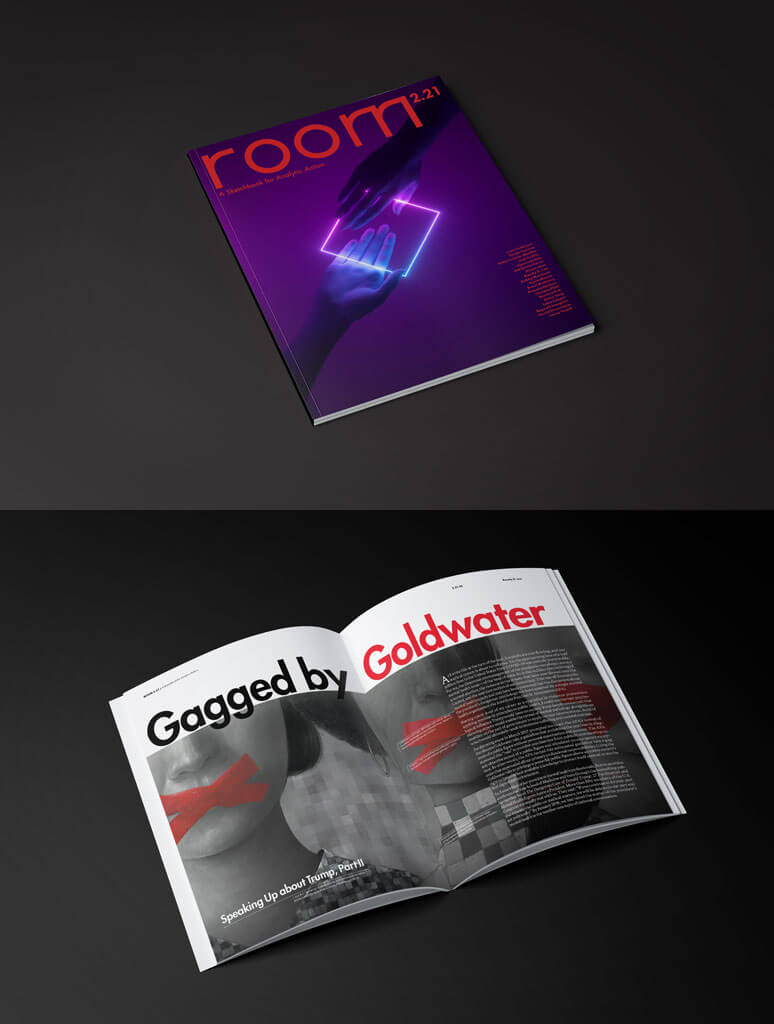 ROOM 2.21
Released: March 2021
Editorial: Just Sayin'
"Radical openness does not mean that we empty our minds but that we open our minds to the prospect of losing the understandings to which we are attached." So begins An Interview with Anton Hart. To be fair, though, perhaps "loosening attachments" when face to face with the trifecta of fascist racism, COVID, and environmental extinction may be near impossible. It's a big ask if, in the midst of existential terror, we are holding on for dear life. The practice of radical openness is marbled with loss. It is an often lonely, sometimes violent, always singular stance. It exists between impossibilities. Two threads run through ROOM 2.21:  the awareness of what it means to live between impossibilities, and how it feels to live with the violence of being cancelled or rendered nonexistent. Some authors dismantle our perception of time and space; others write of what belonging, or not belonging, has meant to them. (…)
Contributors
Luca Caldironi • Paula Coomer • Kelly Cressio-Moeller • Gail Griffin • Gjertrud Hals • Adrienne Harris • Anton Hart • Bandy X. Lee • Bobby Martinez • Kyrie Mason • Brent Matheny • Pamela Nathan • Christie Platt • Bartosz Puk • Betty Teng • Tuba Tokgoz • Raynell Sangster • David Stromberg • Tareq Yaqub • Caroline Volel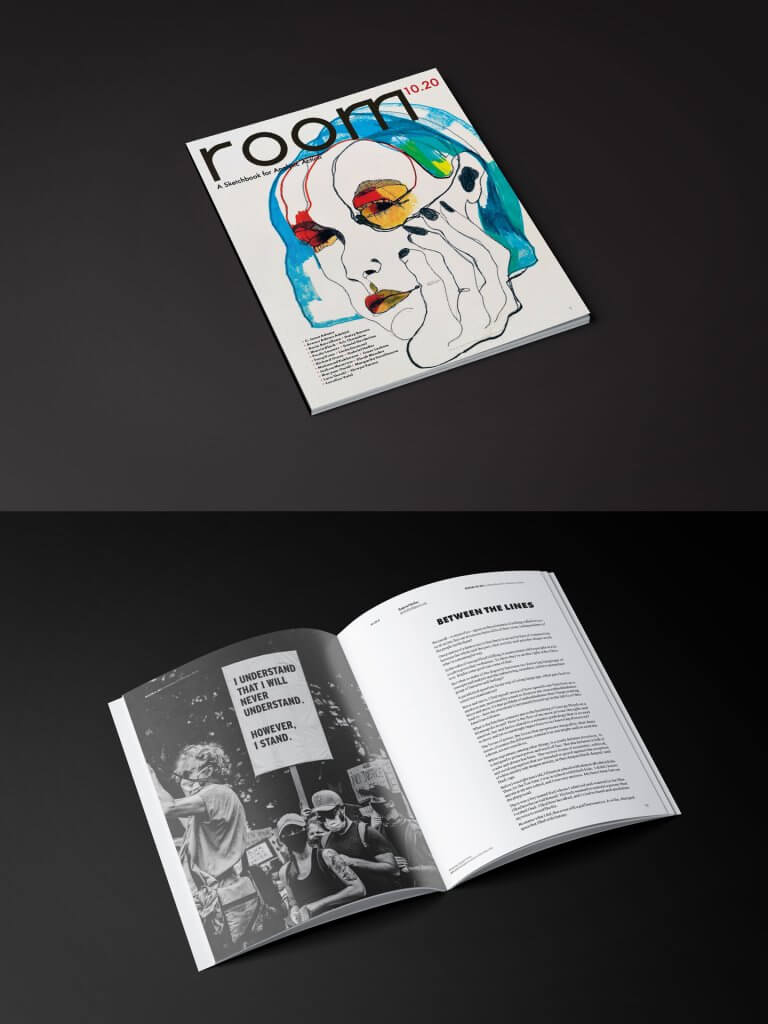 ROOM 10.20
Released: October 2020
Editorial: Re-Vision
For Freud, nearing the end of his life, the fateful question for the human species came down to whether and to what extent our cultural development would succeed in mastering the disturbance our aggressive and self-destructive instincts inflict upon our communal life.
"Men," he wrote in the last sentences of Civilization and its Discontents, "have gained control over the forces of nature to such an extent that with their help they would have no difficulty exterminating one another to the last man. They know this and hence comes a large part of their current unrest, their unhappiness, and their mood of anxiety. And now it is to be expected that the other of the two 'heavenly powers,' eternal Eros, will make an effort to assert himself in the struggle with his equally immortal adversary." Eros's immortal adversary, Thanatos, was life's somber and inexorable drive toward death. Two years later, in 1931 as Hitler ascended to power, Freud went back to this paragraph and added one last line, "But who can foresee with what success and with what result? (…)
Contributors
C. Jama Adams • Aremu Adams Adebisi • Rocío Barcellona • Daisy Bassen • Marcia Black • Eric Chasalow • Paula Coomer • Daniel Derderian • Fang Duan • Linda Emanuel • Richard Grose • Gabriel Heller • Mohamad Kebbewar • Omer Leshem • Joshua Maserow • Dinah Mendes • Maryam Omidi • Margarita Serafimova • Lara Sheehi • Shreya Varma • Caroline Volel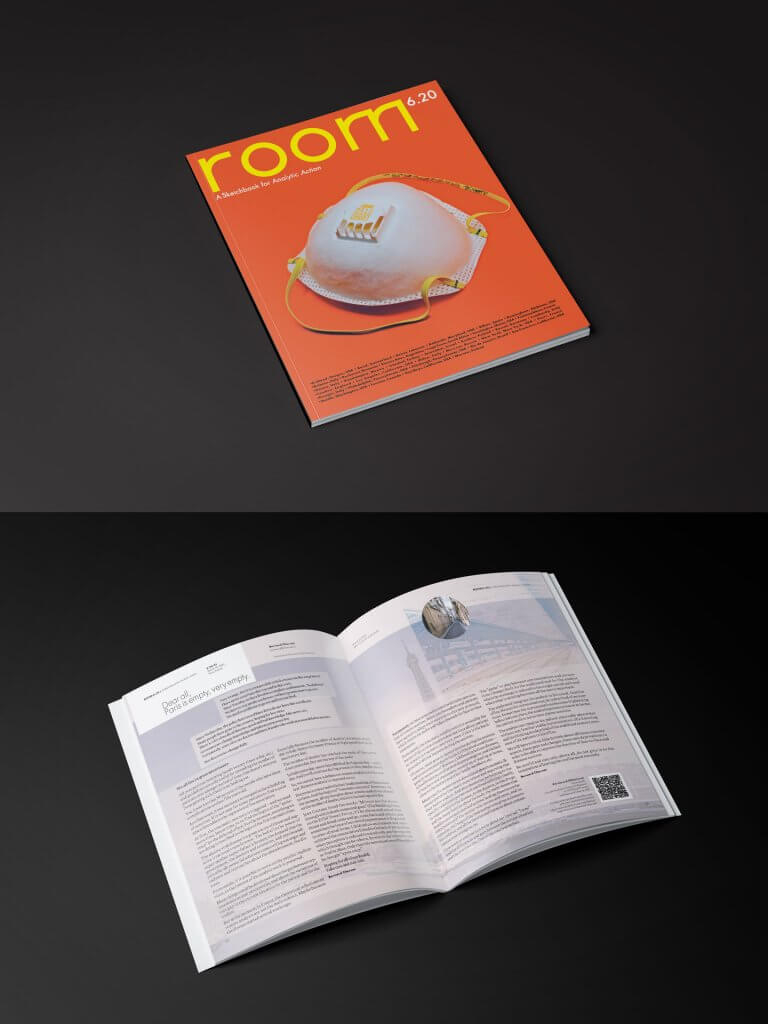 ROOM 6.20
Released: July 2020
Editorial:
Psychoanalysis, art, and poetry make visible and expand the boundaries of our psychic reality and so the world. But what happens when those boundaries fracture? When we are on top of each other and oceans apart? When days merge and space contracts? When inner and outer reality converge on a pixilation screen? Just this. We must create a new path forward. (…)
Contributors
Julia-Flore Alibert • Daniela Andronache • Giuseppina Antinucci • Lee Ascherman • Stefania Baresic • Lesley Caldwell • Joseph A. Cancelmo • Bernard Chervet • Tiffany Chu • William F. Cornell • Viviane Chetrit-Vatine • Ronald Davies • Simonetta Diena • Michael Diamond • Miriam DeRiso • Cristina Escudero • Laura Ribeiro Ferreira • Yehuda Fraenkel • Elizabeth Goren • Joachim Kuchenhoff • Dinah Mendes • Kate Muldowny • Rosemarie Nassif • Marc Nemiroff • Justyna Pawłowska • Gianpiero Petriglieri • Juan Pinetta • Bartosz Puk • David Rosenfeld • Cosimo Schinaia • Gertraud Schlesinger-Kipp • Harvey Schwartz • Alice Lowe Shaw • Irina Sizikova • Julia Roy-Stablein • Manuela Tosti • Drew Tillotson • Elizabeth Trawick • Brian Wu • Ümit Eren Yurtsever • Carmen Cuenca Zavala  • Poets: Kate Angus • Nan Cohen • Eugene Mahon • Marc Alan Di Martino • Amy Miller • Galit Hasan • Rokem • Jeneva Stone • Jeffrey Thomson • Artists: Enrique Enriquez • Linda Louis • Susan Luss • Rafael Silveira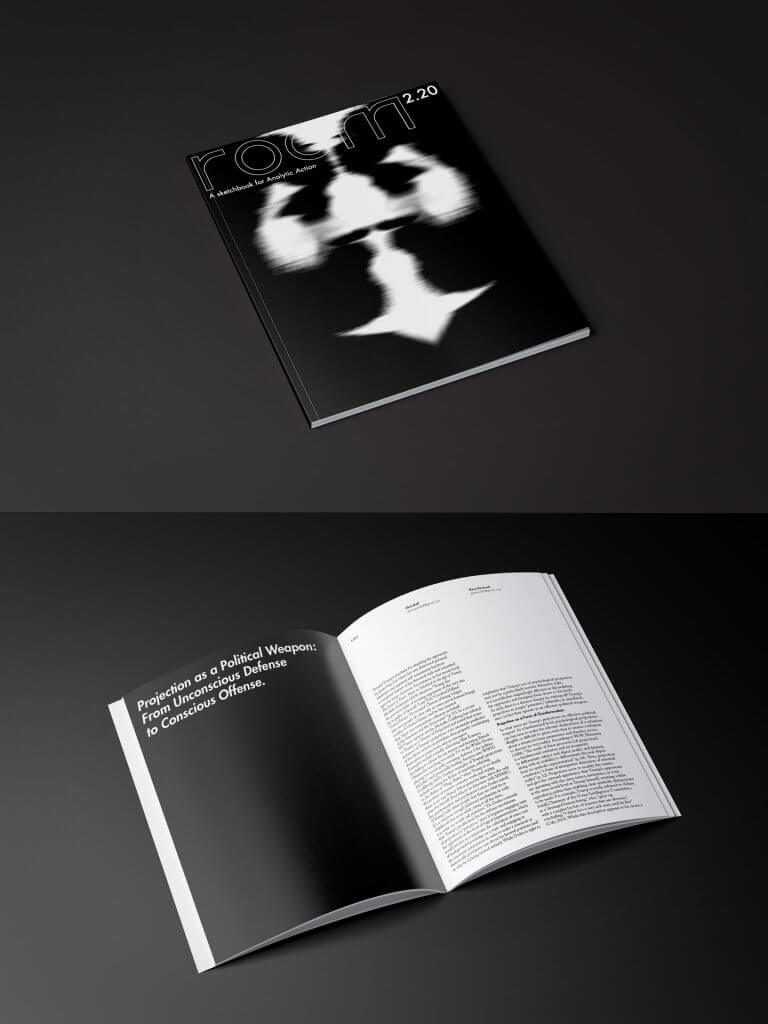 ROOM 2.20
Released: February 2020
Editorial: Tremors
"To be stupefied," Jared Russell explains in his provocative essay Stupidity, "is to regress in the face of the unexpected, to have one's critical faculties paralyzed." The contributors to ROOM 2.20 may be terrified and even heartbroken in the face of the unexpected, but they are not stupefied. They have some very clear ideas that we need to hear. They are telling us that we are living on a fault of our own making that is bigger than the San Andreas, and we are feeling the tremors. Each of these authors are telling us how, when facts and reason hold no sway, when fear, anger, and yes, even love render us numb or blind, we are failing spectacularly and tragically to live up to our humanity. (…)
Contributors
Sheldon Bach • Chris Bell • Daniel Benveniste • Ofra Bloch • Kate Daniels • Michael Diamond • Daniel José Gaztambide • William W. Harris • Michael McAndrew • Elizabeth Herman McKamy • Zak Mucha • Daniel Rosengart • Jared Russell • Gary Senecal • Aneta Stojnić • Juan Pablo Valdivieso Blanco
The views, information, or opinions expressed in ROOM and analytic-room.com are solely those of the authors and do not necessarily represent those of ROOM's contributors or the official policy or position of any other institution, organization, employer or company. Examples of analysis performed within these articles are only examples. They should not be utilized in real-world analytic cases as they are based only on very limited and dated open source information. Assumptions made within the analysis are not reflective of the position of any entity. Read the Terms of Use