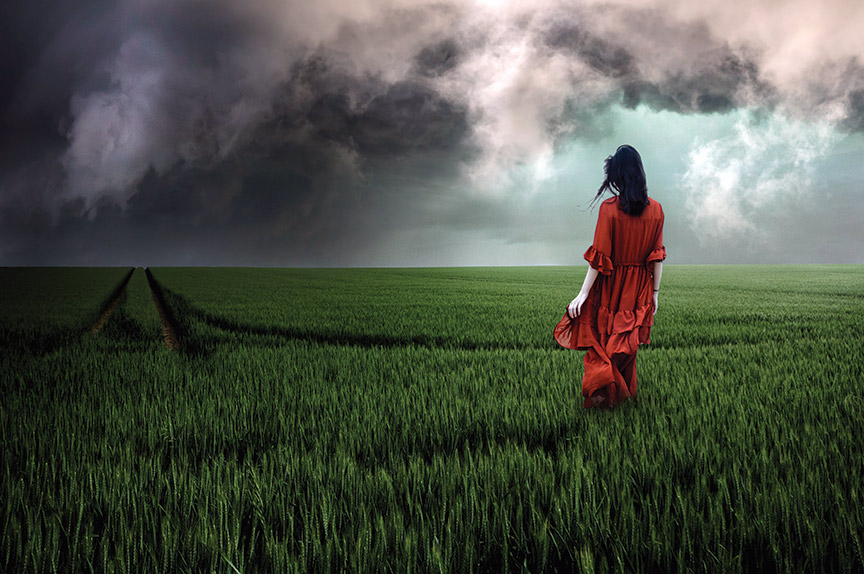 ROOM:
2.22
A Celebrity Family Saga: Psychotherapy Shakes a Chinese-Speaking World
Lee Jinglei, the ex-wife of Wang Leehom, a Mandarin pop superstar for the last two decades and an immaculate top idol in the Chinese-speaking world, has emerged in their recent public divorce row as a darling among the netizens on the Chinese social media platform Weibo and Instagram. In a series of lengthy online posts, she told her side of the story: the abuse and humiliation she suffered from her philandering ex-husband and his family as a stay-at-home mom raising three children alone and the unequal terms of their divorce. She invited the public to think about the cost of raising children for single women and questioned gender inequality and celebrity culture. Her words, nicknamed the "hammer of the thunder goddess" (her name "Lei" is pronounced the same as "thunder" in Mandarin), have been praised as pointed, thoughtful, and provocative, liked by tens of millions of men and women. People thanked Lee for "defending the dignity of women and mothers."
A question Lee asked of her ex-husband—"Is it true that you have been treating me as a birth-giving machine?"—resonated not only with those concerned about women's rights. It also touched the official nerve at a time when China is trying hard to make women bear more children in the shadow of population decline, which, ironically, speaks of the efficacy of the government's one-child policy (1980–2015). To address a prospective existential crisis of radical decrease of birth rate, the government has been aggressively promoting "family values" and "social ethics." In this context, the government sees the celebrity culture of money worship, hedonism, and extreme individualism as a dangerously decadent Western import that must be tackled in order to build a birthing-friendly environment. Party leadership criticized Wang indirectly, and Chinese state-run media called for his permanent ban. Businesses quickly cut ties with him. Wang issued public apologies, vowing that he will take a break from performing to focus on becoming a better father, better son, and a better role model for the general public. In her last post, on December 23, Lee addressed her readers by saying, "I hope this thing ends as is; I hope we can all soothe our hearts' injuries, live a peaceful life, and become the change we wish to see." 
Many factors contributed to this nearly perfect resolution of a celebrity family saga, leaving a deeply satisfying sense of catharsis and edification. What is interesting for my psychoanalytic thinking is the decisive role psychotherapy played in the unfolding of the story. As various forms of psychotherapy and psychoanalysis have become ever more popular in the non-Western world, I believe it is worth exploring how psychotherapy is and could be used, with Lee as a case example. Let's first see how the story unfolded.
On December 15, Wang announced on social media that he and Lee divorced due to their different visions about the future. He avowed that their marital life was "simple and pure" and asked the media not to pry further. However, soon reports of his philandering and soliciting of prostitutes came to light. Wang responded by indicating that the real reason for the divorce was conflict between Lee and his mother, not because of his chaotic sex life. 
In a Weibo post on December 17, Lee first expressed gratitude to people who sent messages of warmth and comfort to her in her difficult time and said she had made the most difficult decision in her life in "coming out," because only in facing what's going on could one possibly go back to point "zero" and have a chance of "rebirth." She hoped her sharing her journey would help people reflect on their lives and not suffer what she suffered due to lack of awareness. She pointed out how, out of beautiful visions of love and family, she quit her job and her own life to get married and become a stay-at-home mom. After their marriage, she made Wang and their children the focus of her life, juggling endlessly between roles of "mom, nanny, helper, driver, teacher, partner, and assistant." She invited society to think about how much a homemaker should be paid, asking if the income from the job she gave up before marriage should be taken into consideration. She confronted Wang about his emotional abuse, lack of care for his family, infidelity, and patronizing of sex workers. She lamented that as an adult man, Wang, "not being able to make decisions about his work, personal life, and finance," has been using her as "a chess piece" to protect himself. Now again, "in order to defend yourself, you tried to redirect the topic by lying about me… I will not bear the cross for you anymore," she announced.
Lee further articulated a manifesto of healing, for herself, her ex-husband, and larger society, hoping "each of us would have our own rebirth." About herself, she said, "From now on I will treat myself well, I will have another life, I will be strong, reliable for my children and the best possible example." For Wang, she declared, "I hope you could be honest with yourself, not paying attention to how you are looked at. I hope you admit your own problem and stop blaming others for your own mistakes, to feel regret, change… I hope you could focus on your music to heal the world." For the public, she hoped for more reflection, not only on the cost of homemaking for women but also on the use of media as a marketing tool for a good public image. She called for responsible role models for the future generation, not false idols generated for marketing purposes.
But Wang was not ready for the edification. He went on to emphasize that he and Lee had seen five therapists because for years he had been living in "fear, extortion, and threats" for which Lee was responsible. To prove his innocence, Wang had his eighty-year-old father Wang Ta-Chung issue a handwritten letter, claiming that Lee, as a calculating gold digger, had used pregnancy to force him into marriage. The letter also announced that "Leehom absolutely did not cheat" and "is not a scum." 
In response, Lee again challenged Wang to "take responsibility" for his own behaviors, not rely on his eighty-year-old father to defend and lie for him in public. She wanted everyone to see their therapist's "professional analysis" and posted two messages to her and Wang from their therapist. The message to Wang reads: "You're on the wrong track. You're in a blame pattern, not taking responsibility… Treating your wife as if she had a mental illness, and describing her in this way to others, has been part of the problem contribution on your part… [It] is also mentally abusive." The message to Lee was apparently a response to Wang's request for a change in therapist. "He's hoping to find a therapist who would agree with him that he is normal and good and [his] wife is crazy/horrible to him… This has to do with his patterns of gaslighting you…to make you think you are crazy, or not qualified, etc." In a couple of days, Wang issued his apologies and a break from public appearances.
While it is debatable whether a psychotherapist's notes should be posted on social media as a weapon, in this story most people did not seem to have an issue with Lee's appropriation of the therapist's words to defend herself and tear apart Wang's defenses. To me, psychoanalysis/psychotherapy is greatly honored by playing a part in Lee's gesture of "mariticide" (killing of the husband). In the context of the traditional Confucian values of "three obediences" (to father, husband, and son), perhaps a married woman in the Chinese society has to commit this crime in order to be emancipated and assume a position in a world with others, in addition to the crime of Loewald's "parricide" (symbolic killing of the parents) as a developmental necessity for the child to become a member of the adult society. "I have been deeply trapped in being a victim, too busy and depleted in trying to defend, prove my innocence, not having the time and energy to talk about what should be talked about." Now, with the assistance of "professional analysis," in my imagination, Lee seems to be smashing the old social shackles of a woman's anonymity and establishing herself as an equal human being with rights and dignity.  
In short, Lee's story seems to be saying that through her encounter with her psychonalaysts/psychotherapists as new objects, new others, new role models or exemplars, something preciously different, other, a vision of healing and new possibilities is introduced and grown, and she is emerging as a new person. Hers could be understood as a case of the effective use of therapy in the change of an individual mind and remaking of a person, presenting and representing to the world a new, more viable way of being oneself and relating to others. In this psychotherapy-informed/transformed new way of being and relating, Lee responds to the calls of her times to defend her own rights and the dignity of many others, envisioning a life in a fuller, more expanded sense. Her newly developed voice offers a vision of a new harmony and restitution through the deconstruction of oppressive, damaging old cultural ideals about self and others, possibly leading to a new space, a space more friendly to human birthing and rebirthing. By contrast, her ex-husband, Wang, did not appear to be so lucky, entangled in family romance with his same old folks and resisting psychotherapy. Hopefully, he will also see a "rebirth" through the ripple effects of the efficacious psychotherapy that Lee went through.
Bibliographical and External Links
Fang Duan, PhD, LMSW, is a Chinese Canadian living in the United States, a psychoanalyst in training at the Institute of Psychoanalytic Training and Research, New York. Working with a diverse population from various social-cultural backgrounds, she is interested in exploring, clinically and theoretically, the implications of psychoanalytic thinking for individual and societal development.

   

Email: fangduan14@gmail.com
| | |
| --- | --- |
| ROOM is entirely dependent upon reader support. Please consider helping ROOM today with a tax deductible donation. Any amount is deeply appreciated. | |