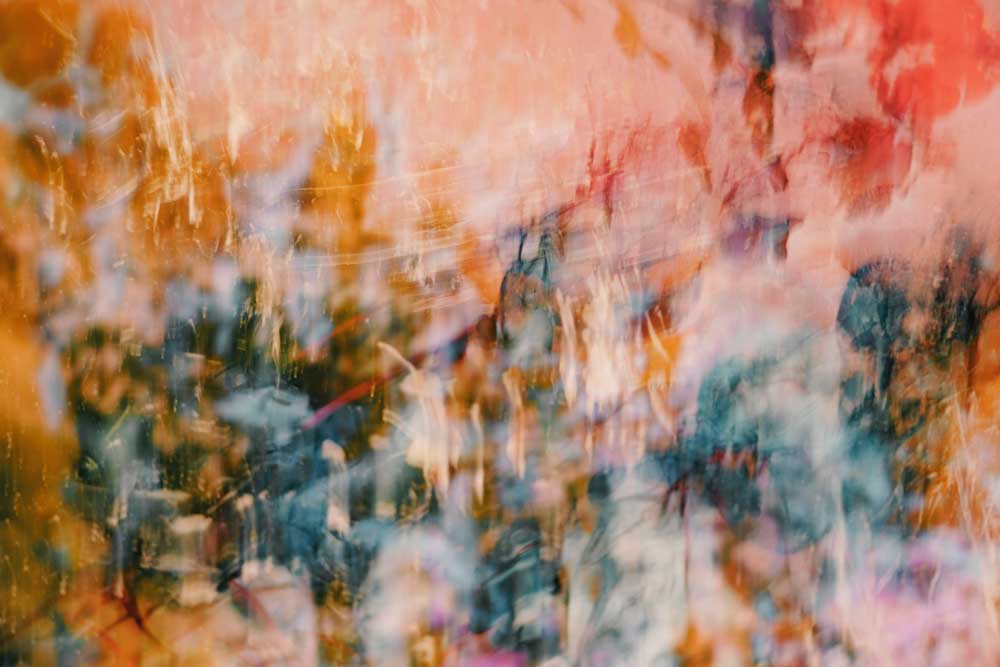 ROOM:
10.23
A Lack of Interest
by Elle Wynn
The obsessions I look into the least in session are those centered around true crime. Call it countertransference; call it a lack of professional curiosity. Label it what you will, but what remains is an utter absence of interest in the very stories that keep many of my clients perched on the edge of their seats, breathless as they recount a tale that has captured their full attention that week. Inevitably, bodies roll across the narrative like a boat skimming across the face of choppy waters. In moments, they've rounded a bend and are out of sight, out of mind, out of session. The climax hurtles forward, and the bodies become a number, a jail sentence, years and children left behind. 
Still, I couldn't help clicking on an article in New York Magazine two years ago, well beyond my graduation and into my tenure as a therapist, about the Woodson Houses murders. When I read through the article, I recognized not only the halls I'd walked alone as a social work student but the serial killer's last victim, a woman whose sweetness and idiosyncrasies were out of a Southern Gothic novel.
Hunter College's field placement program is chaotic at best and utterly dysfunctional at worst. At some point in the fall of 2017, I ended up in a minivan with five other social work students, shuttled between sites in East New York and Brownsville. When we landed at Rosetta Gaston and the Woodson Houses, I felt the nerves of the students beside me ratchet up. The housing projects were vast and the center imposing with its cages over the windows and its large, nearly empty dining hall. When it was announced that I would be coming there to work alone, the Japanese student with whom I'd become closest over the course of the day squeezed my hand gently. "I'm glad it's not me," she whispered. 
When I left work, the clients would occasionally tell me they prayed for my safe journey home. I dreaded the time when it would be dark before I left the center at 5:00 p.m., when the New York ice and winter nights would settle on an already-dark winter in my life. Traveling from the center to the opera felt like traversing entire continents; I felt displaced and ill at ease in both.
Despite the school's insistence that there would be adequate supervision, I was left alone in my placement for days at a time, and I often wandered the halls of Woodson Houses. Because of the color of my skin, I was called upon to accompany clients to NYCHA offices to make complaints about the state of their apartments; they assumed that a white woman's voice would be listened to when theirs was not. I'm not sure if it was. The New York City Housing Authority is, for better or worse, an egalitarian bureaucratic nightmare. 
It is difficult to put into words the minor and major tragedies of a place like Rosetta Gaston Senior Center and, by extension, the Woodson Houses, where its members resided. Because of the relatively randomized, lottery-like selection for public senior housing, many of those I spoke to at Rosetta had moved from boroughs other than Brooklyn. Many had outlived children; the relatives who remained were often too aged or lived too far away to visit. Yes, they told me, they had a place to live, but they felt they'd lost their family in order to do so. Many feared living in the Woodson Houses for reasons other than a killer who'd struck in the building; they feared the constant elevator outages and the simple fact that in a fire, they would not be able to climb down the stairs. This was a fear that was spoken of in select company; there were those members whose children had died in the Twin Towers, and it would have been too cruel to speak of those fears in their presence. 
But presence is what this essay is about—a presence and a lack thereof. The other in the room and an imagined other who never existed. The imagined other was the idea of safety, of having found a safe place within four walls with one's peers. It was a place where the Thanksgiving dinner was served early but with great seriousness and where the members' birthdays were celebrated with a massive white sheet cake monthly. And it was an other that proved to be false, not only with the murder of a center member's infant grandson just blocks away, discovered by this woman on the center's lone television, but with the initially unreported murders in the Woodson Houses. 
Years later, I recognized the serial killer in the article as a man whose presence I'd asked about several times during my year at Rosetta Gaston but not enough times to justify any real interest; he simply made me uneasy, and his presence among the senior women did not make sense. He never met my eyes, and I cannot tell you what his voice sounded like. I have not wanted to know since he was caught and have not sought out sound bites.
The killer—Kevin Gavin—was not a senior citizen, but he came to Rosetta Gaston as a sort of handyman; he often went across the street to buy lottery tickets and sodas for the senior women. I rarely saw him speak to other men. When I asked about him, I received few responses; my questions normally came during game time, trying to rouse up interest in group therapy sessions, and at that point many were already in supplication to the gods of kino or bingo. 
What alarms me now is the idea that people felt safer in the center than they did out of it; that they walked down the hall connecting Woodson Houses to Rosetta and visibly loosened their shoulders and their smiles when they approached. The sense of security was false; there was nothing to keep these vulnerable individuals safe. In fact, even the buzzers on the doors were rendered useless by the center's dining room, which kept its door wide open in the mornings for the garbage to be dragged out. NYCHA employees flitted through like jolly, gray-sweatshirt-wearing specters, but it was well known that residents "needed to file a ticket" before asking them to look into repairs. Wait times were often eight or ten months. The presence of a NYCHA logo meant nothing but a sad shake of the head.
Why my clients and I were not warned to be safe inside when an unsolved brutal murder had occurred above our heads less than two years prior is unclear. Why social work students before and after my tenure were left in those houses for days at a time without oversight, being pulled upstairs to take pictures of peeling paint and leaks in the apartments of homebound seniors, I do not know. The presence of safety was certainly felt, but what was actually existent was a malignance, a predator. The last victim, a woman who spoke perilously little English but was well loved for her flamboyance and her suggestive, waggling eyebrows, was especially vulnerable, as she was small and drowsy. She often slept in the center, head against her chest, wearing a bright red basketball jersey; she felt safe in that place. Eventually, I, too, felt safer there, and my departure came with much sadness. I felt attached to the clients and to the quiet religiosity that reminded me of being back South. But that safety remained an illusion, and I often wonder what's left of the place after COVID and Kevin Gavin worked their way through. 
What I know but cannot say to clients is that bodies that add up in true crime are not as weightless as our television binges would have us believe; matter is neither created nor destroyed. That weight rests somewhere. It rests often in the place where people are already bogged down underneath a terrible burden—of poverty, loneliness, and alienation. And the sagging of their shoulders does not prevent more weight from being added. 
Bibliographical and External Links
Elle Wynn is a psychotherapist working for two community mental health clinics in Manhattan and Brooklyn. She focused her undergraduate studies at NYU on creative writing and hopes to be able to make use of writing more in her professional life as she moves to attend an analytic training institute this year.

Email: lauraellewynn@gmail.com
| | |
| --- | --- |
| ROOM is entirely dependent upon reader support. Please consider helping ROOM today with a tax deductible donation. Any amount is deeply appreciated. | |