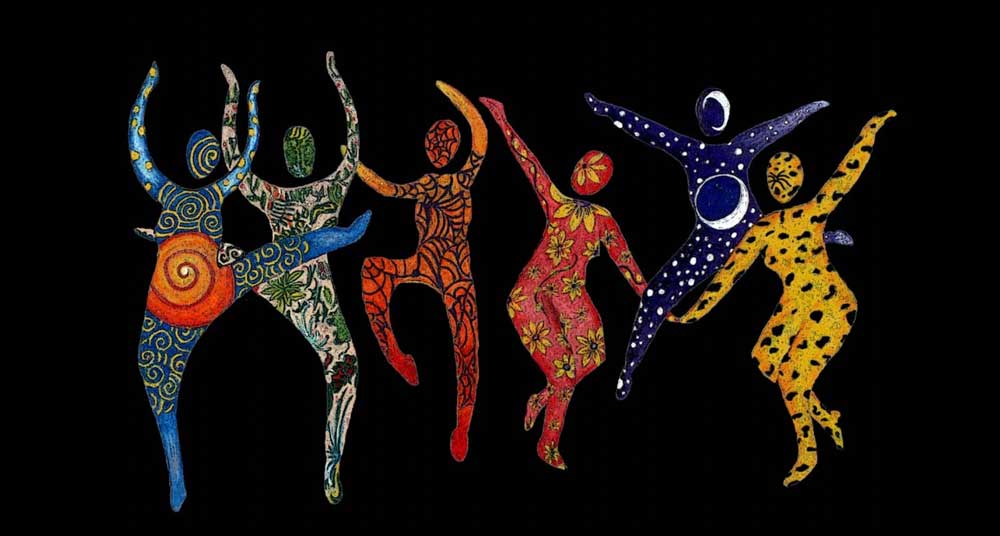 ROOM:
10.23
Building Connection and Resilience
by Carole Geithner
I have been honored to be a group facilitator in the Writing for Friendship program serving young women from Afghanistan, Myanmar, Bangladesh, and fourteen other nationalities represented among the students attending the Asian University for Women in Bangladesh. The university's mission is to serve women whose higher education has been severely restricted in their native countries. In groups of five or six, we gather together for ninety minutes over Zoom to write once a week for six weeks. We breathe in the relative calm of our collective pause, and we share moments of beauty or experiences of kindness we observed over the previous week. And then I invite them to write, to give words to their strengths, their stories, their dreams. After the writing portion, we listen to each other's writings "as if listening to a poem," and we share what resonated or what we appreciated in each group member's unpolished yet remarkably poetic writing that we've just heard. 
It is extraordinary to feel their joy and sense of discovery as they experience how writing can be therapeutic, can forge connective tissue among previous strangers, and can encourage and allow them to hear themselves. 
"I'm so happy I found a chance to go to myself and search." 
I have the honor of witnessing firsthand how moving it is for them to hear how their own reflective writing touches others in the group, builds connections and courage, and helps to reduce the sense of isolation that often comes from being far from family and culture. 
"Someone to hear us, from deep heart."
There is an atmosphere of discovery as soon as I share a visual image or poem and invite the young women to share their thoughts and feelings in response. We all benefit from their varied perspectives as we follow the guideline that there are "no wrong answers." This key ground rule helps to unleash their creativity and reduce the internalized critical voices most of us have. We make room for the quiet voices too. Next I offer them an open-ended writing prompt.
Following the pattern in the poem "I AM…" write your own poem. This poem invites group members to explore their hearts with beginning lines such as "I CRY…I DREAM…I WANT…"
"I dream…of connecting with my truest self."
"I cry for my entire country as the sky does for the whole planet."
I have been astounded by what they are able to convey, all with various English proficiencies, and their beautiful use of metaphors.
"Kindness cleans our hearts."
"My mother's laughter brought me the universe."
A photo of sunlight entering through an opening in the roof is paired with the prompt "Write about how the light gets in…" 
"The light gets in through books."
"We are shining a light on each other in our group."
"Light is the self-realization of my worth."
"I'm like a room with light. Without light, we don't perceive the environment or the colorful world."
"Education is light and empowerment."
Sometimes they give each other tips on making friends. Or speak of how feeling gratitude can be an antidote to sadness. Some grapple with ambivalence, the confusing feelings about a loved one both caring and bringing pain.
Facilitating these connections and building on these young women's existing strengths has given me some of the most meaningful and interesting moments of my thirty-five years as a social worker. I've been moved to create my own new metaphors and perspectives as an individual living in a complex world, either during the shared silence of writing to the same prompt or after a session, when I sometimes write to integrate what I've experienced during the group. By creating a container for a small community of women to hear and witness each other as they build trust and try to create meaning in their challenging lives, the groups foster resilience, mutual support, and a sense of hope. 
"We needed someone to believe in us."  
Bibliographical and External Links
Carole Geithner is a licensed clinical social worker who also holds a CPA from Columbia University's Narrative Medicine program. She is the author of the novel If Only, a story about grief and resilience. Her website is carolegeithner.com.
| | |
| --- | --- |
| ROOM is entirely dependent upon reader support. Please consider helping ROOM today with a tax deductible donation. Any amount is deeply appreciated. | |