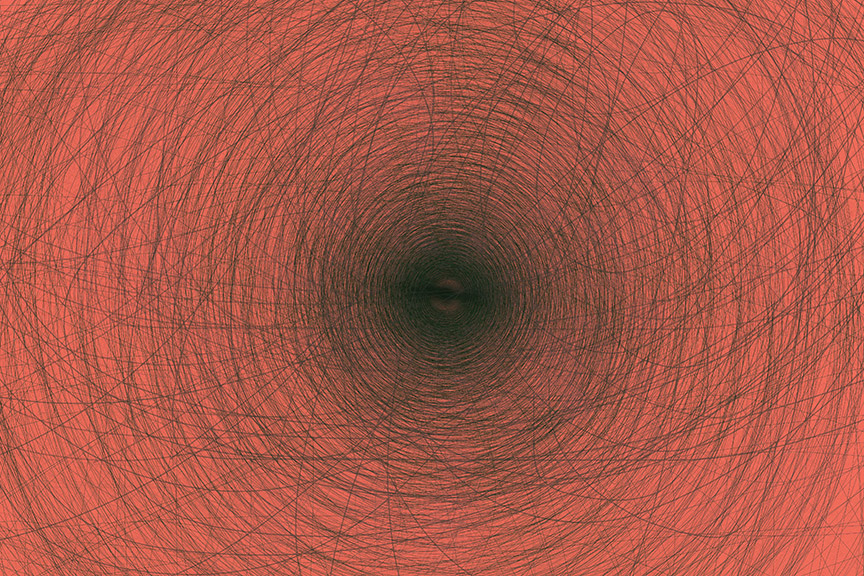 ROOM:
2.22
Looking out the window from my airplane seat, I anticipated seeing the familiar landmarks of the valley city below—Phoenix, Arizona—as they came into view during the flight's descent. It was one of my first trips home since leaving the state to start medical school. The flight seemed unremarkable up to that point. To my surprise, as I looked out the window, expecting to locate known terrain, the scene from the window, effaced the familiar. Instead of mountain ranges with a city below, we were in a cloud. Was it fog? Was it a rain cloud? I don't recall the flight having been turbulent at all. In retrospect, the burnt-orange hue of this particular cloud should have raised alarm. This particular cloud was given its strange hue from the sunlight reflecting off the sand saturating the surrounding cloud, and the sandstorm was about to make our landing perilous.
The plane assumed the familiar position right before landing: the nose tip up, the wheels jet out, prepared. But then there was a sudden change into the unfamiliar. The body—my body—has a way of communicating when it's thrown from the familiar, dislodged from regular rhythms. I quickly felt disoriented. A second later, as my mind caught up to what my body already knew, I started to worry. The plane rolled. The left wing dipped toward the ground, and the right wing went skyward. And then I felt the left wheel of the plane bounce on the tarmac. Jostled and confused, I felt my angst amplify as it became clear that the plane was now ascending skyward. 
In the (re)ascent, each individual's seemingly solitary world gave way to a collective sharing. Suddenly we were all very aware of one another. It felt like all of us—together—became one body unit, contained and situated within the rattled fuselage. The sense of a collective synchronizing of breath, a collective shudder, a collective silence. Once we were at a new stable altitude above the sand cloud, the pilot came on the speaker and said, "Well, we're going to circle around and try that again." The embodied sense of connectedness continued in the silent breathing that lingered through the (re)approach. When we landed, this time safely, there was a collective sigh of relief.
I am writing this at a time in the pandemic where many of us are circling in a similar holding pattern: dislocated from the familiar, trying to know when, if, and how we can (re)approach the familiar. We know, despite the uniqueness of this pandemic storm, that even when we touch down to familiar coordinates, for those among us fortunate to touch down (again), that we touch down changed. We are never in the exact same place twice.
After a fifteen-month hiatus from in-person meetings, a fifteen-month (re)ascent away from the familiar, I walked into my analyst's office for the first time this summer. I parked my car in the familiar spot and walked down the familiar sidewalk. I entered the familiar lobby and sat in the familiar waiting room. "Not much has changed," I thought, rather naively (and defensively), as I moved through these old spaces. I made my way to the couch and tried to settle in. I'm not sure what I had anticipated feeling in this (re)approach, but I hadn't expected this. Within a few moments of the opening of the session, I found myself vigilantly perceptive to my surroundings. 
I found myself looking at the texture of the walls in her office, the details in the spines of the books on the shelves, the hue of green in the plants. I noticed the familiar fragrance in the air. But more than anything, it was the sounds in the room that ushered in something both comforting and deeply sad—at the same time. In the silences between my speaking and her speaking, I could hear us both breathing. And in the moments between our breaths, I could hear the still sound of silence. I had heard these sounds before, I was sure of it, yet I had forgotten about them. None of these audible inaudibles were perceptible to me in the many months we sustained our work through phone sessions. Only in the registering of these audible inaudibles, in the remembering of these audible inaudibles, the shared—and unwittingly lost and now shared again—sense of being together in the room, did I realize how much I missed being with my analyst in her office. And as I began to realize this, it struck me in a completely new way just how massive, how unfathomably traumatic, this pandemic storm has been. I was overcome with an intense sense of loss. Grief surely of the time but not solely belonging to this time.
The following week I began to see some patients in person again after a fifteen-month hiatus. Ash is a twenty-five-year-old man with whom I've worked for the past four years. This patient came to me after several years of treatment in a large university system that started when he was a child. Over the years of his treatment, the desperate (and real) need for symptomatic relief from debilitating anxiety and self-injury lured everyone's attention away from the context of his surroundings and created a hyperfocused gaze on him, his body, his symptoms. All the while, and unbeknown to any of the providers involved, both parents were helplessly consumed by their own severe, but highly functional, self-inflicted behaviors. As Ash was taught distraction techniques, assigned workbooks for how to cope with "irrational negative thoughts," and medicated (sometimes heavily) for his "excessive worries" and self-injuries, the utterances of his symptoms were left untranslated, and his deepening sense of brokenness amplified.
Working with Ash has been uniquely painful for me, even noxious, in ways I still struggle to comprehend. Our circling(s), ascents and descents, have always felt turbulent. I am aware of my reluctance to approach him. It is as if I see the storm ahead and run the other way. Ash's storm clouds contain something more than virus particles, something more than sand. As I see the self-inflicted wounds on his skin, Ash's body tells me that his storm clouds are composed of the most violent of assemblages: viruses and sand for sure but shards of glass, too.
Ash walked into my office and sat on the couch. He began to speak. There was no mention of this being the first session back after fifteen months, nothing about the time spent apart, nothing about the experience unfolding in the room together. The way he picked up from where he left off in our previous remote session made it seem as if this moment was not in fact happening. Shocked by his seeming lack of awareness of the uniqueness of this (re)approach, I considered interrupting him but decided against it. I said a few words here and there but did not draw his attention to this omission. I held off, in part, because of a growing awareness of something utterly surprising occurring internally for me as he continued to talk and as I continued to listen. There was no return to the familiar noxious experience in me, the experience I had come to associate with Ash himself. Far from it. Instead, the sound of his voice (was it his voice?) as he spoke to me sounded warm, welcoming, deep, unrecognizably rich and melodic in tone. His speaking took my breath away. I had never noticed his voice in this way before. How was this even possible? Despite the surrealness of what was unfolding and despite my previously conscious experiences of aversion when sitting with Ash, I realized I missed him.
Speechless and almost moved to tears, I sat there in awe of the moment. And then, suddenly, Ash stopped talking. He looked around my office and said, "I'm sorry, I'm having the strangest experience… I'm just realizing what it feels like to be back in your office." I ask, "What are you noticing?" As he continued to look around, now taking in something about the moment, he says, "The sound of the fan, the feel of the couch, the sound of your voice…it's all…it's all really comforting. I forgot how comforted and safe I felt here. I've really missed this. I've missed you."
For the first time in this treatment, there was a meeting of this sort between us, a sharedness. A sharedness of what is, what was, and maybe what hadn't yet been. We were both moved to tears, for the first time, together. The shared—and unwittingly lost and now shared again—sense of being together in the room. Something had changed in the many months of circling in between. I don't yet know what. What I do know is that in this particular (re)approach, we both landed together, changed and connected.
Bibliographical and External Links
Loren Sobel, MD, earned his medical degree from the University of Chicago Pritzker School of Medicine and completed his psychiatry residency at the Western Psychiatric Institute and Clinic at the University of Pittsburgh, where he served as chief resident for psychotherapy training. He is an originating faculty member at the Western Pennsylvania Community for Psychoanalytic Therapies, where he teaches psychoanalytic theory and technique, faculty-by-invitation at the Pittsburgh Psychoanalytic Center, and volunteer clinical faculty member at the University of Pittsburgh, and serves on the board for the Clinic Without Walls, a low-fee clinic that provides psychodynamic psychotherapy to the community for those who are uninsured or underinsured. He provides ongoing supervision and consultation to psychiatry residents and psychotherapists in the community.

   
| | |
| --- | --- |
| ROOM is entirely dependent upon reader support. Please consider helping ROOM today with a tax deductible donation. Any amount is deeply appreciated. | |