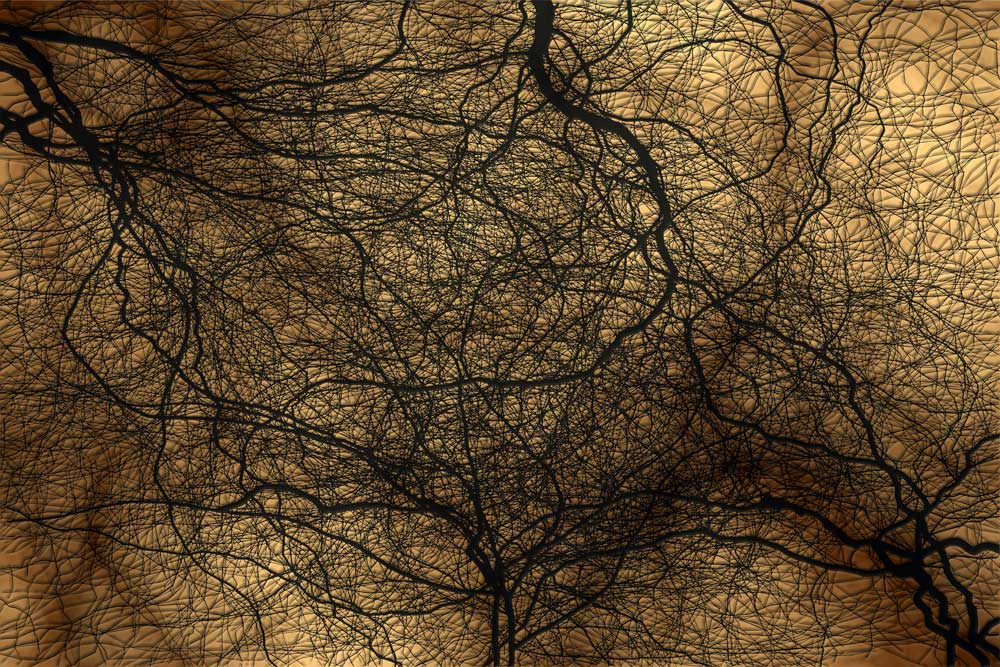 ROOM:
2.23
Fascism: The Appointment in Samarra
by Era Loewenstein
Since the 2016 election of Donald Trump, I frequently think of the Arab fable "The Appointment in Samarra" as it was retold by the British author W. Somerset Maugham. The speaker in the story is Death, who, interestingly, is portrayed as a woman. Here is how the fable goes. There was a merchant in Baghdad who sent his servant to the market to buy provisions. Soon after, the servant returned, white and trembling, and said, "Master, just now when I was in the marketplace, I was jostled by a woman in the crowd, and when I turned, I saw it was Death who jostled me. She looked at me and made a threatening gesture. Now, lend me your horse, and I will ride away from this city and avoid my fate. I will go to Samarra, and there Death will not find me." The merchant lent his servant his horse, and the servant mounted it. He dug his spurs in its flanks, and as fast as the horse could gallop, he went. Soon after, the merchant went down to the marketplace, and he saw me standing in the crowd. He came to me [Death] and said, "Why did you make a threatening gesture to my servant when you saw him this morning?" "That was not a threatening gesture," I said. "It was only a start of surprise. I was astonished to see him in Baghdad, for I had an appointment with him tonight in Samarra."
The lesson of this fable is obvious: not only is there no way for us to escape death, but the circumstances of meeting our death are unpredictable. My family's and my own history have taught me that the course of our lives is capricious. Wars, atrocities, and political upheavals shape our destiny. Ideologies and propaganda mold our views of what is real and what is true. My history also taught me that just as we cannot escape death, we may not be able to get away from fascism. Fascism, unfortunately, as Hannah Arendt has taught us, is here to stay. Increasingly we are witnessing the rise of fascistic ultra-right parties in Poland, Hungary, Italy, Germany, Brazil, Israel, and here at home in the American MAGA movement. It is as though the horrors of the 1930s have returned. It is becoming apparent that hideous fascism may be a permanent by-product of modern democracies. 
The allegory of the servant who tries to escape Death is especially apt, considering the nature of fascism. Fascistic movements are known to mobilize the masses under the spell of an omnipotent and charismatic leader. The hidden aim of this mobilization is not to improve the lives of the adherents but to bring about the destruction of millions of innocent people. When the fascistic delusional bubble confronts the limits of the external reality, tragically, the adherents themselves often become victims as well. Historians and political scientists have pointed out the fascination of fascistic regimes with death and the endless deployment of destructiveness. The slaughter begins by inventing an enemy, a group of people that are defined from the outside by characteristics that they have not chosen and that they do not have the power to change. The specification for becoming an enemy may include people's physical or mental health, race, skin color, religion, ethnicity, or sexual orientation. These targeted groups are then stripped of their legal rights, becoming, as Arendt has pointed out, homeless in their own home. They are eventually expelled or exterminated. Once this invented enemy, whose only "crime" is belonging to a particular harassed group, is wiped out, a new enemy must be chosen to keep the destructive machine going. The Nazi ideology first targeted the disabled and the mentally ill. Later it zeroed in on the homosexual, the Bolshevists, the Jews, and the Roma people. We now know that there were already plans in place for wider and wider circles of persecution. Arendt noted that in 1943 Hitler proposed a draft for a comprehensive new health law suggesting that after the war, all Germans would be X-rayed and that families with a history of lung or heart disease would be incarcerated in the camps.
My father fled Vienna on March 11, 1938, the day of the Anschluss—the annexation of Austria by Nazi Germany. He was twenty-two years old and a second-year medical student. He escaped to Palestine, carrying with him only a suitcase. He crossed France, taking a boat from Marseille to Alexandria, Egypt. From there, he embarked on another boat, which brought him to the Port of Jaffa in Palestine. On his arrival, he changed his name from Gerhart to the biblical Hebrew name Gideon. By changing his name, perhaps, he hoped to erase the deep feelings of loss and betrayal that he must have felt. Growing up, I could never understand why the citizens of Vienna enthusiastically embraced Adolf Hitler's victorious arrival in Vienna in 1938. The sight of the masses of Austrians welcoming Hitler's motorcade, chanting and saluting Sieg Heil while waving thousands and thousands of little swastika flags, was incomprehensible to me. Watching Trump's political rallies with the sea of his MAGA supporters waving large Confederate flags or Trump flags, some of them depicting him as bare-chested Rambo holding a bazooka, makes me feel humbler. I now understand that it can happen here in the United States as well. 
My father refused to return to Vienna until he was eighty years old. He would vacation yearly in Switzerland and Germany, but he could not make himself visit Vienna. I joined him in Vienna for his first and last visit on the occasion of his eightieth birthday. We went to see the house where he lived on Hohe Warte 32 (the High Place in German). As a son of the director of the Israelite Institute for the Blind Child, my father grew up in the director's apartment on the first floor of the building. At the end of the war, the three-story building was bombed by the Allies. After it was repaired, it became a local police station. There was only a small plaque memorializing the previously world-renowned institute. My father and I could not approach this plaque, however. We stood in the garden. While my father was pointing out to me the apartment where he grew up, a young policewoman in uniform stepped out of the building and told us firmly, in German, to leave the premises. My father softly replied in German that he was born there, but the policewoman could either not hear him, or she was not interested. She ordered us to leave. It was so poignant to me to witness my father being expelled once again. During this visit, I asked my father for the first time why he fled Vienna. He laughed anxiously and said that he feared his Nazi high school classmates, who knew where he lived, would hunt him down and kill him. 
Heading toward Palestine in 1938, my father was full of ideals and hopes. My parents, like many of their relatives and friends, were socialists. They considered themselves to be lucky pioneers who would take part in the creation of a just, liberal, secular, socialist new Jewish homeland. This was how it came about that I was born in Jaffa some fourteen years after the Anschluss and five years after the Israeli War of Independence and the founding of Israel in 1948. The hospital where I was born used to be called Dajani Hospital. Established in 1933, it was a private hospital in Jaffa where Palestinian, Jewish, and international medical professionals worked together. The hospital was founded and directed by Dr. Fouad Ismail Bakr Dajani. By the time I was born, the hospital's original name was already erased. Now it was called Tzahalon Hospital, named after a nearby Israeli residential neighborhood. The word "tzahalon," in Hebrew, suggests the acronym "tzahal," which is Hebrew for Israel Defense Forces (IDF). Tzahal also means to rejoice. By changing the name of Dajani Hospital to Tzahalon, an entire history was wiped out, not only the life work of Dr. Dajani but also the rich history of the Palestinian residents of Jaffa. Jaffa was the largest Arab town in Mandatory Palestine. It had a large professional and prosperous Palestinian population. I now know that out of the seventy thousand Palestinians who lived in Jaffa, about 80 percent were forced to flee their homes. Yearlong Palestinian sniper attacks on Jewish passersby in Tel Aviv initiated intimidation and terror against the Arab residents. The IDF compelled them to flee and abandon their homes. When I was growing up, Jaffa was a beautiful Israeli artist colony. We used to visit the quaint art galleries that were built in the "abandoned" Palestinian homes. Throughout history, people have taken over the property and lands of others, rejoicing in their victory and enjoying their confiscated or looted homes and lands. 
As an Israeli teenager, I was inspired to love our motherland, or our "moledet," as we called it. I joined the socialist youth movement Hashomer Hatzair, the Young Guard. Each year we participated in arduous hikes that lasted three to four days. We carried backpacks filled with sleeping bags and heavy food cans. We loved these hikes, and sitting at night around a bonfire, we sang sentimental folk songs about our love for our moledet. During our hikes, we often passed many places called "khirbet" (ruins in Arabic). They all had Arab names. Usually located on hilltops, these ruins would have olive trees here and there, perhaps a fig tree. In a few spots, we noticed the remnant of a wall built from local stones next to a row of sabra cacti. Colorful wildflowers carpeted the ruins in the spring. In the summer, the ruins were covered with thistles. We never wondered what was there before. We did not know that these "ruins" were once lively Arab villages. It is astonishing to me that we did not know that in 1948 the Israeli government gave orders to bulldoze these villages. When we did wonder, we were taught that the Palestinians had fled their villages. We believed the Zionist propaganda that claimed the Arabs, unlike us, the brave sabra, the young Jews who were born in Israel, were cowards who followed their leaders' recommendations to flee their homes. We did not know about the Nakba, the Palestinian catastrophe of 1948. I discovered the fact that 700,000 Palestinians—men, women, elderly, and children—were expelled and forced out of Palestine on foot or by boats only when I was in my fifties. Many Palestinians were tortured and slaughtered during the Nakba. Some women were raped, and many homes were looted. It was only then that I discovered that most of the Palestinians were forced to leave their home and villages due to terror and intimidation by the Israel Defense Forces. To this day, Israel has not accepted the reality of Nakba and has not taken responsibility for it. In my early twenties, I could no longer tolerate the rise of fanatical, religious, and messianic nationalism in Israel. The movement that propelled fanatic young Jews, many of them Americans, to build illegal settlements in the occupied West Bank repelled me. Feeling that the steady rise of toxic nationalism was poisonous to my soul, I left Israel and immigrated to the United States at age twenty-six. 
Now in the United States, I have come to believe that there is no escape from the cyclical temptation of fascistic states of mind, states that, as Christopher Bollas noted, give people license to carry out genocide. I have come to accept the fact that even if I try to flee fascism's clutches, I may not be able to. I have reconciled the horrifying yet sobering realization that fascistic states of mind, as Christopher Bollas so astutely demonstrated, are lodged in all of us. Fascism seems to be an unavoidable part of the human condition.
Bibliographical and External Links
Era A. Loewenstein, PhD, is an adult, adolescent, and child psychoanalyst. She is a training and supervising analyst at the San Francisco Center for Psychoanalysis, where she serves on the faculty. Dr. Loewenstein presents locally, nationally, and internationally on various topics, including trauma and perversion. Since 2016, Era has been teaching and writing on fascistic states of mind. Her 2018 paper "The Agitator and His Propaganda Machine: Donald Trump and the Road to American Fascism" was published in Fort Da. Era edited and contributed to a Psychoanalytic Inquiry issue dedicated to Perspectives on Populist and Fascistic States of Mind (Psychoanalytic Inquiry, Volume 43, Issue 2, 2023).

Email: eraaloewenstein@gmail.com
| | |
| --- | --- |
| ROOM is entirely dependent upon reader support. Please consider helping ROOM today with a tax deductible donation. Any amount is deeply appreciated. | |