ROOM:
6.21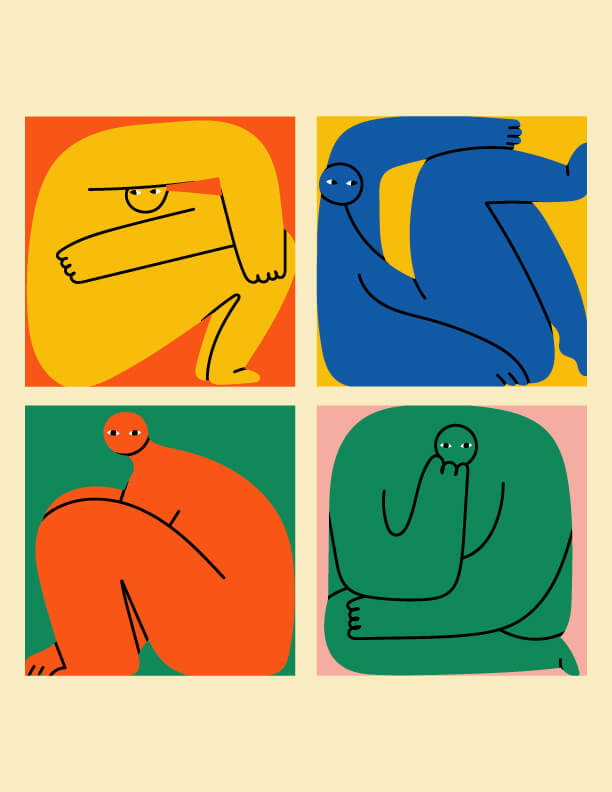 Many of us have had the experience of standing in front of the window of a hospital's newborn nursery, a partition that simultaneously protects and allows visitors to gaze at the variety of human life displayed within. The tiny creatures, hatted in little ski caps, are only hours to days old, yet how distinct they are from one another as they sleep, squirm, smile, grimace, and cry. It's fascinating in those early weeks, especially if the infant is a familial one, to watch the play of expressions that crosses its face and then shifts, calling to mind now the contemplative gaze of one relative and then the loopy smile of another—features that over time will coalesce into a more stable facial configuration. It's as though, for a brief while, the newborn phenotype reflects the multiplicity of its genetic constituents that will shortly disappear from view and go underground.
The first psychoanalyst to single out and explore the process of identity formation was Erik Erikson, who classified the stages and challenges of identity development and highlighted the "identity crisis." In his view, the formation of both personal and group identity—national, racial, ethnic, and religious, among others—is shaped equally by the elements that are allowed in and incorporated and those that are left out and expelled. Disidentification is the term coined by the psychoanalyst Ralph Greenson to depict the process in which the little boy turns away from maternal identification in the course of his masculine gender identity consolidation. But as we all know, if the unconscious is a bottomless reservoir and in line with Erikson's intimation, what becomes of disavowed and discarded identifications?
Identity establishment and alignment are keynotes of our cultural discourse, signaling cohesiveness and allegiance as well as diversity and fluidity. The LGBTQ umbrella represents members of the population who identify neither with the majority sexual orientation nor with traditional gender categorization and roles, but racial identification is in a comparable state of flux. In an interview with the Wall Street Journal about the racial and ethnic categories used by the US Census, the former director of the Census Bureau commented, "The race question [on the census] is incoherent because race is incoherent" (November 28, 2020). The census findings that over 10 percent of babies born in the United States today have one white and one nonwhite parent, and that 26 percent of Hispanics marked the box for "other" when asked to identify their race attest to the shifting nature of racial experience. Following the 2020 election results, Kamala Harris was heralded as the first woman and the first Black American, as well as the first Southeast Asian American to assume the role of vice president, and we were witness to her intersectional embodiment of both a multiplicity and a coalition of identities. 
Some identities carry more freight and valence than others, as the contemporary reevaluation and reimagining of Blackness unquestionably does. Historically degraded and otherized, nonwhite skin color has become a badge of unity, protest, and pride. James Baldwin's observation that "Black is a tremendous spiritual condition, one of the greatest challenges anyone alive can face" accentuates the complexity and layers of meaning that inform Black identity. When Barack Obama became our first Black, African American president, his designation as such seemed self-evident, despite the fact that he is technically biracial. But as a white person, I found myself searching at times for his white half and wishing it could be recognized and named because I too wanted a part in identifying with him, and I felt excluded. Although I recognized that my dose of otherness and exclusion was just a microscopic, and even ironic, reflection of the experience of most Black people in our country, I took some comfort in the thought that Obama's wide-ranging capacity for empathy and the breadth of his identity had been shaped also, unlike the experience of so many Black people, by positive contacts with white people.
As psychotherapists and psychoanalysts, we are familiar with the fluctuating identifications that unfold in the course of deep-running therapy and with the psychic change that is revealed in the emergence of new self-representations and the relinquishing of old identifications. In my own clinical work, there was one therapeutic encounter in particular that stimulated in me an unanticipated stretching of boundaries. The patient in question, a self-described "brown girl," was an accomplished professional who had persevered in the face of numerous obstacles and instances of mistreatment by significant people in her past. From the outset, she made it clear that she would prefer to be seeing a therapist who was a better match with her racial and cultural identity. As we continued to work together, her comments became increasingly dredged in anti-Semitic insinuation. I felt assaulted and on several occasions responded defensively and angrily, entangling us in arguments that threatened to end the treatment. I was concerned that both the treatment and I would fail, but I was also intrigued by this patient, whose tenacity and sense of integrity led her to express her views, no matter how distasteful they might be to me. Not lost on me also was a generosity of spirit that coexisted alongside her anger and rancor and was at moments directed toward me too. 
After a number of mutual provocations that showed no signs of diminishing, I began to sit back, literally and figuratively. I considered that, in addition to the real experience that had fueled this patient's anti-Jewish sentiment, her anti-Semitic barbs might be understood both as a transferential vehicle for expressing aggressive feelings—and a test of my ability to withstand them—and as a projective replay of her own subjection to baleful otherness. Over time, I noted in myself a gradual buildup of relative immunity to her anti-Jewish asides (she remained quite vigilant about my potential reactivity), which I was coming to hear with a certain dispassion and even curiosity. I was aware that I seemed to be sliding out of the template of my Jewish identity, with its associated loyalty and chauvinism (although it was clearly an identity susceptible to self-criticism, or else why would I have felt so defensive to begin with?) and gliding into an inhabitation of my patient's perspective, as I imagined it. This slipping out of my own boundaries felt expansive but also somewhat disloyal and even transgressive, because while it released me temporarily from my own psychic confines, it also invited an abandonment of an essential identification and allegiance and a crossing over into another subjective experience that was inimical, at least in part, to them. Adding to the unfamiliarity and novelty of this experience, it more than once expressed itself viscerally—by the rise in me of a sensation of antipathy toward what I sensed as my own bleached-out skin color and a yearning for the warmth and saturation of my patient's skin color. The imagined and partially embodied release of boundaries and identifications that I experienced had a lasting impact on me, while at another level, the actual relationship with the patient gradually grew more trusting and closer. 
The psychological definition and clarity necessary for early identity consolidation are achieved via a selection process in which some parts are left in and others renounced. The parts excluded are disavowed, often depreciated, and sometimes infused with hatred. The psychoanalytic constructs of penis envy and womb envy attest to the devaluation that infiltrates what is experienced as missing from and Other than oneself and exemplify the continuous psychic struggle to balance the poles of admiration/envy and love/hate. We all "contain multitudes" and begin life with a profusion of possibilities for identification that inevitably succumb to constriction and suppression in the process of development and socialization. But in favorable circumstances, psychological development that progresses over the life span may be accompanied by a loosening and reordering of previously fixed boundaries and identifications and manifested in a personal identity that is more inclusive, encompassing, and richer. ■
Bibliographical and External Links
Dinah M. Mendes, PhD, has written on a range of psychoanalytic subjects for Azure, Division/Review, Encounter, Psychoanalytic Review, The Forward, and Tikkun. She is a member of IPTAR and has a private practice of psychotherapy and psychoanalysis in New York City.

Email: dinahmendes@mac.com
| | |
| --- | --- |
| ROOM is entirely dependent upon reader support. Please consider helping ROOM today with a tax deductible donation. Any amount is deeply appreciated. | |