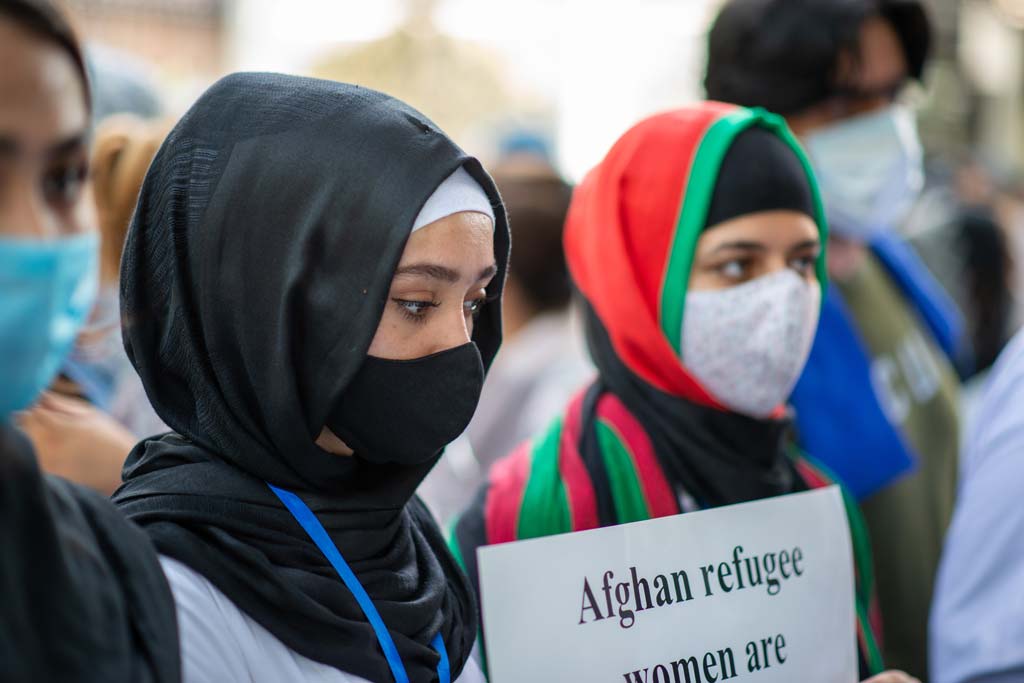 ROOM:
10.21
NAMES WITHHELD: From Afghanistan
by Sayed Jafar Ahmadi and Carter J. Carter | Translations by Maryam Vahid Manesh and Faisal Amin (with editorial assistance by Abdullah Khairzada and Waleed Khairzada)

 "The caged bird sings
with a fearful trill
of things unknown
but longed for still
and his tune is heard
on the distant hill
for the caged bird
sings of freedom"
―Maya Angelou, I Know Why the Caged Bird Sings
"This was no friendship, to forsake your friend,
To promise your support and at the end
Abandon him―this was sheer treachery.
Friend follows friend to hell and blasphemy―
When sorrows come a man's true friends are found;
In times of joy ten thousand gather round."
―Attar, The Conference of the Birds
Our Afghan friends are singing to us from far away, with a fearful trill. America promised our support and, at the end, abandoned them. It was sheer treachery. Yet I hope we might find ways to be true friends, that in this time, not of joy but of sorrow, ten thousand and more might gather round. At our best, that is our tradition in psychoanalysis. We listen; when our colleagues are threatened by murderous power, we bring them close to us and make a home together. We will follow you to hell, and we will try our best to walk out with you. 
I am Afghan, among other things. My grandfather fled Kabul under threat of torture because he loved art and books and wanted other people to love them too. I would never have known my Afghan family if their American friends had not done what was needed to bring them to safety. From America, Kabul can feel very far away—a distant hill, across seven valleys. From our distant hill, we must listen to our Afghan colleagues and do what we can to get them what they need—freedom.
Carter J. Carter
The Train of Life in the Cage
After the terrorist attack on Sayed Ul-Shuhada Girls School,
my wife and I went to school to help those girls affected psychologically.
We taught them the concept of death by displaying the train of life.
But in this week, we ourselves are in the cage.
Everyone is waiting. Perhaps a gradual death because a horrible thing can happen every moment.
And now we are wondering what to call this, maybe the train of death.
Dr. Ahmadi wrote The Train of Life in the Cage on August 24, 2021, while in hiding. He enclosed in his email an image of a painting called The Train of Life. "I took this with me when I fled," he wrote, "and there is a story connected to it." This is the story. 
Dr. Ahmadi and his wife, who is also a psychologist, set up a program at the Sayed Ul-Shuhada School for the students who survived the bombing in May 2021 that killed at least ninety girls. Dr. Ahmadi taught the students about the "train of life" in order to teach them about the concept of death. The program was deeply appreciated, and President Ghani, who had been informed of their work, was scheduled to have a meeting with them. To commemorate this event, the students painted the Train of Life and included in it a photo of the president and the words "Afghanistan Abad with Happy and Literate children." Their plan was to present the painting to President Ghani on World Children's Day. The presentation was canceled when schools were shut down because of the coronavirus. Because the Taliban forbid painting and because Ashraf Ghani's picture was in it, after the Taliban invaded his office, Dr. Ahmadi carried this precious painting with him into hiding. 
Gibbons-Neff, T., and Rahim, N. "Bombing Outside Afghan School Kills at Least 90, With Girls as Targets," New York Times (May 8, 2021)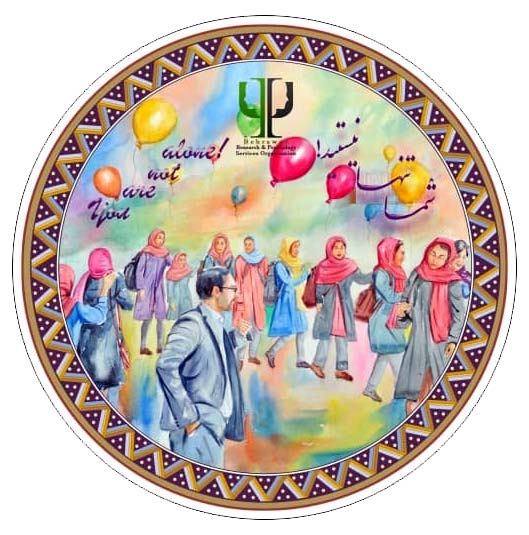 As of the writing of this essay, Dr. Ahmadi and his wife continue to receive death threats. Dr. Ahmadi is a member of the Hazara community, and the Taliban have sworn to eradicate all Hazara. Already there have been several reported massacres in the countryside. Until the very last days before the government fell, the Ahmadis refused to leave the country, knowing that they were needed. But now that the lives of their three small children are threatened, they must find a way to cross the border into safety. 
Two of Dr. Ahmadi's psychology students from Kabul University have shared their experiences below. In light of the new dangers they describe, for their protection and the protection of their families, their names are being withheld.

A Bird Trapped in a Cage
It was August 15, 2021. I was at work when I heard that the Taliban had entered the city of Kabul. We read about the fall of other cities in the news every day, but we did not know that they might reach Kabul soon. Suddenly everything was closed. When I left the office, I saw everyone rushing toward their homes; you could see the sorrow and anxiety in their faces. My heart was pounding and my thoughts were confusing. I was afraid that the Taliban would stop me and beat me because I didn't have proper clothing. 
I don't remember the last time the Taliban were in power, but the sad and horrific stories my mother and sister have told me are always with me because, at that time, the Taliban prevented girls from going to schools and forced women to wear chadori and stay home. The Taliban whipped women and treated them like livestock. During the Taliban regime, being a woman meant that you were ruled by men, were the property of men. As I am writing this with tears in my eyes, it is the second of September. The "Palace of My Dreams," which I had been building from the time I started going to school, was shattered the moment the Taliban entered the city of Kabul. 
Ever since college, I have had only one goal: to become the minister of education and to change the system in Afghanistan in order to create an educational system so Afghans could reach the standards of other advanced countries. I have worked so hard to reach this goal. Every night before going to sleep, I imagined myself in a ministry chair as secretary of education, but now I find myself imprisoned in the corner of the room. 
Now I have to wait for these "goat herders," who have not showered in months, to decide for me and others like me what my fate is going to be. Will I have the right to work or not? If they feel pity for us and allow us to work, what will I be allowed to do? What will I be forced to wear? The Taliban's definition of a woman's life purpose is to sit at home, get married, have children, serve her husband, and live like a bird in a cage—and never imagine leaving the cage. 
In the last three years, I have worked in an environment where men believed in gender equality. I was free to advance in my career and make progress in my community. I was very happy about that because I became an individual and I was able to decide my own future. I strove all my life to be able to make my own decisions, but after the arrival of the Taliban, all my hard work has been in vain. Now, even if I want to buy sanitary pads, I have to have a man with me. I am grieving because I have lost the most precious thing I had in my life; I have lost my freedom.
NAME WITHHELD
Bachelor of psychology from Kabul University 

These Days Are Passing
Hello. Today is 7/6/1400 (Shamsi calendar)—the day after the Islamic Emirate was established. As I am writing, I am thinking to myself that, ever since I was born, I've only had one thought: When is this misery going to end? I am writing this letter from the bottom of my broken heart and my eyes are full of tears. This is the end of all my efforts. Who was I? Where am I going? Where am I going to end up? What is going to happen? Am I going to become the wife of a Taliban? Or am I going to sit in a corner of a house forever?
Oh God, my heart aches. No matter what I do to make myself be hopeful, it has become impossible. From the time I was a child, I remember that I was running from one city to another, so I could at least go to school and finish my education. Eventually we arrived at a place I never thought we would get to; twelve years of school, four years of college, and it is all gone in vain. What is my hope? How am I going to move in life? How am I going to have the strength to move forward? After the day the Taliban took over, I was trying to comfort my mother because she was afraid that her four daughters were going to be kidnapped by the Taliban. She is miserable. And to this day, it is hard for her to go to sleep. My sister who was studying engineering tells me that they [Taliban] will not allow me to finish my education. She has gathered all her books and put them in a corner of the room. All she does now is sleep. My third sister, who is in the eleventh grade, is such a hardworking student. She has hidden her books in fear that the Taliban will burn them all. My third sister, all she does is watch TV. I think to myself, Why are we here? Why do we even exist? Do we exist only to sit in a corner of a house? Are we existing only to take care of a house or to be a housewife? Where is justice? Where is freedom? I don't know what to say to my sisters. I don't know how to make them hopeful.
I am thinking to myself that my life is done. And from now on, I am just going to be a prisoner of this government. I feel as if I am in a cage and there is no way out except death. And when I come to my desk to read and to study, I get depressed because I remember all my wishes and dreams. I remember the times in school with my friends and how we were all so supportive of each other. And how we were all bonded. And how we were walking on the streets, talking and chatting and having good times. But now, with all my wishes and hopes and dreams, I am sitting in a corner of a room and I can't even raise my voice. And I can't even express my existence. It seems like there is nothing that gives me any pleasure anymore. I don't enjoy anything anymore. Even food doesn't taste anymore. I don't want to go anywhere or do anything. I only want to cry. I want to be strong, but the messages I get from my friends tell me only one thing: being a girl is a bitter reality to accept. It is very difficult to comprehend. It is a lot darker than what you can even perceive. I am trying so hard to imagine better days ahead. With all my existence and all my energy, I tell myself these days shall pass. 
NAME WITHHELD
Fourth-year student at Kabul University
Bibliographical and External Links
Sayed Jafar Ahmadi, PhD, is a psychologist and a faculty member at Shaheed Rabbani Education University in Kabul, one of the thirty-nine campuses of Afghanistan's public university system and its premier education university serving a female majority. He directs the school's Model Counseling Center and works with students on projects with the Ministry of Education and UNICEF to provide psychosocial support to schools that have come under violent attack. He works on weekends with Hazara girls' schools and youth organizations and publishes extensively. 

Email: sjahmadi2002@gmail.com

Carter J. Carter, PhD, LICSW, is an adjunct associate professor at the Smith College School for Social Work and a senior lecturer at the Lesley University Division of Expressive Therapies. He serves as member-at-large on the board of directors of APA Division 39 and as president of Division 39's Section IX: Psychoanalysis for Social Responsibility.

Email: Carter.Jas.Carter@gmail.com
| | |
| --- | --- |
| ROOM is entirely dependent upon reader support. Please consider helping ROOM today with a tax deductible donation. Any amount is deeply appreciated. | |