ROOM:
2.18
NOTES ON BECOMING AN ACTIVIST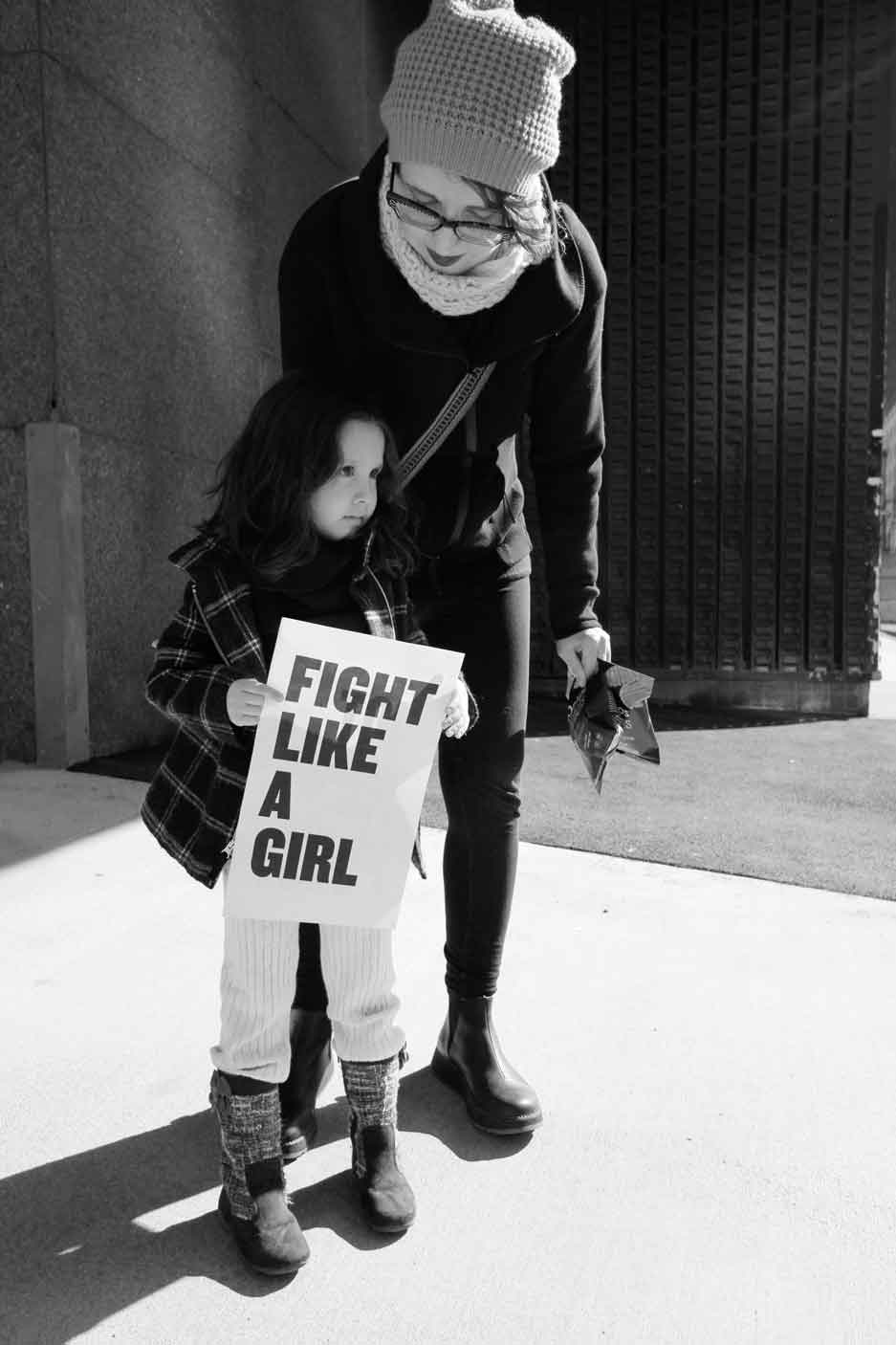 On October 14, 2017, I moderated an event called "Duty to Warn" in New York City. The event was one of several held nationally on that day. The topic was on the psychological fitness of Donald Trump to hold the office of president of the United States. The proximate reason for my being the organizer of this symposium and subsequent march to City Hall was that I went to high school with Dr. John Gartner, whose petition on change.org, urging the removal of the president under the 25th Amendment, went viral. When John asked me if I would host the Duty to Warn event, I said, simply and without thinking, "Sure."
Another force driving my personal connection to this movement was that, while I'm not a mental health professional, I am the daughter of two New York City-based Freudian psychoanalysts, Louise and Donald Kaplan. My uncle and one of my aunts are also therapists. In addition to being psychoanalysts, my parents were political activists. In 1961, when my younger brother was born, my mother was so distressed at the state of the nation that she wanted to leave the country and take us with her to a safe haven outside the United States.
Instead, we stayed. My parents resisted in part by creating, along with their poet friend, Armand Schwerner, a book titled The Domesday Dictionary1. Here are two entries:
D is for Dust Bowl:
"The migration was toward California, a land lush with the green of farms and fruit orchards. On the way, the families of the American Dust Bowl found themselves dissolving in the larger migratory confusion of families unhoused by the economic upheavals of the farmlands of Alabama, Arkansas, Louisiana, Mississippi.
Californians became aware of the increasing influx into their state of these shiftless aliens, filthy eyesores who glutted the labor market, who were prey to "red" agitation, whose hopeless laziness sponged the wealth that Californians had toiled to create. Roadblocks at the California border went up to regulate the traffic.Californians passed ordinances regulating the political and social activities of the new arrivals. They deputized armed guards to supervise and drive on the outlanders. Even vigilantes and night raiders were employed. To Californians in a time of peace, idealism, and economic growth, these migrants, arriving empty-handed from the disaster-stricken heart of America, seemed entirely wrong."
California, today considered a state of inclusion and liberal politics, shut its borders to our own citizens in the time of fear and perceived scarcity that followed the Great Depression.
Z is for Zero-Zero:
"Zero-Zero is a definitive plan for atomic disarmament based on an absolute atomic-energy moratorium…Zero-Zero is opposed by the Soviet Union as a plot by capitalist monopolists to impede the industrial development of the socialist states. As for the United States, the plan is an affront to that nation's industrial philosophy: a technology that exists must be used."
This passage seems to echo in the words of Donald J. Trump, "What's the point of having nuclear weapons if you can't use them?"
The main purpose of the book was to prevent a nuclear holocaust, and here we are again. In my mind, this is the front-burner reason for containing, disarming, and evaluating this president. A similar climate after a similar sequence of historical events compels me to continue my parents' work.
Following the screening of a video that was shown at every demonstration across the country, the speakers at the New York City event addressed four topics: the nature of the president's disorder; the danger President Trump presents to our country and the world; the symptoms of trauma that we, as a country, are exhibiting under the Trump administration; and how to empower Congress and the cabinet to employ the 25th Amendment.
The question and answer period that followed was so emotional that it was hard to end it in time to meet the scheduled start of our police-protected march. I heard from organizers in other cities that some events went on for six or more hours as participants broke into discussion and debate.
Our event was forming right on the heels of Charlottesville. Many participants expressed their fear of marching, but after the completely peaceful event people came up to me and said, "I was so scared to come out and march. I feel so empowered." The officer in charge of the police who walked with us said, "If you ever have another demonstration in another precinct, call me, and I'll put you directly in touch with the officer there. It was a pleasure to assist you."
Unbeknownst to me, however, a rift within the Duty to Warn leadership had formed. It widened when the best-selling book The Dangerous Case of Donald Trump, edited by Dr. Bandy X. Lee, was published. (DangerousCase.org) The rift comes down to the question of how mental-health professionals should respond to the crisis of leadership posed by Mr. Trump's presidency. Dr. Lee asserts that it is unprofessional to lobby for specific bills or laws or to engage in partisan political activity. In keeping with the old Goldwater rule, Dr. Lee's group, "Duty to Protect," does not diagnose the president. Rather, it urges Congress to do what would be done with any citizen acting the way the president is acting: Contain. Disarm. Evaluate. (Mental Health Experts on Donald Trump • BRAVE NEW FILMS)
With this in mind, Duty to Protect delivered Lee's book to members of Congress. Dr. Lee and other representatives of the group offered their professional perspective on why the president must be evaluated.
Meanwhile, Duty to Warn, led by Dr. Gartner, is clearly in the political advocacy arena, working hard to flip the house in 2018 by making a series of videos it hopes will go viral. Dr. Gartner asked me, "If the Russians who interfered in the 2016 election didn't spend all that much money on their messages, why can't the left do the same thing?"
Besides creating videos and facilitating demonstrations, Duty to Warn's activities include forming a 25th Amendment PAC and Super PAC, which support candidates who run on a platform that includes a promise to pursue invocation of that amendment. adutytowarn.org
So. We have two mental-health professionals with distinct ideas about how it is appropriate to act in a professional capacity. And we have one economist (me) who is now mostly an observer deciding what to do next. Whatever the "right" response, one moment during the Duty to Warn event stays with me. It was when someone stood up during the Q&A and said, "You should be out there saying this every fucking day." —
Bibliographical and External Links
(1) The Domesday Dictionary Being an Inventory of the Artifacts and Conceits of a Civilization. Donald Kaplan and Armand Schwerner, 1963.

Ann E. Kaplan, MA is an economist and writer. She is a vice president at the Council for Aid to Education (CAE), a New York City based nonprofit that measures education outcomes. She has studied charitable giving for 25 years. Email: Kaplannyc@hotmail.com

Photo by Audrey Siegel from the 'Duty to Warn' demonstration.

Photo by Andrew Vickers. Members of One Resistance, an alliance of Progressive groups in Austin, Texas, march across the 1st Street Bridge in protest of the inauguration of Donald Trump as 45th President of the United States.

Photo by Rochelle Brown. Fight Like A Girl, United States.
| | |
| --- | --- |
| ROOM is entirely dependent upon reader support. Please consider helping ROOM today with a tax deductible donation. Any amount is deeply appreciated. | |