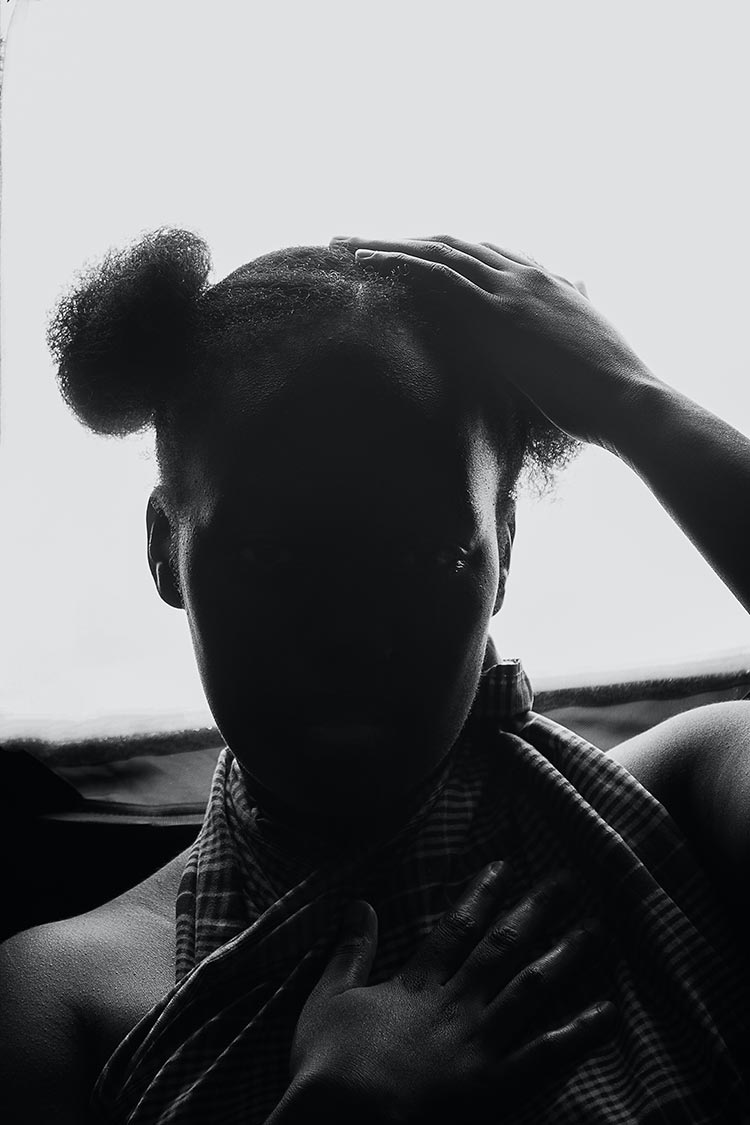 ROOM:
6.23
On Hair Care
by Destiney Kirby
Every day, I have engaged in the sacred ritual that is my hair care. I gently mist my coily strands with water, apply a cream filled with the building blocks of life, and seal with an oil scented by the gods in heaven itself. This daily tradition has become a point of pride, a coat of arms tying me to the ancestral roots of struggle and resilience. It was not always this way.
My hair could have been held in court as evidence of child neglect. My birth was preceded by an endless list of questions concerning paternity, but the dark, coarse corkscrews that sprang from my crown only served to lengthen the list. My mother's loose auburn curls explained half my head, but the other half remained unaccounted for. My family would later joke, "We didn't know whose you were, but we knew you weren't white." 
As I grew older, my mother would experience significant difficulty managing my hair without the help of the internet to direct her. She would succumb to four-hundred-degree flat irons in between long treks from our rural home to the Black hair salons in the city. I could imagine the pride she must have swallowed as she, a white woman from the country, toted a brown baby with a lion's mane to a space where she was met only with judgmental eyes. She would drop me off at the front and explain to the stylists that I needed a chemical relaxer and press. A "relaxer" was a cream that could be applied to textured hair, effectively breaking its structure and allowing the hair to hang straight until the new, curly growth came in months later. 
I remember their scoffs at the white woman who demanded her Black child be rid of something so inherent to her culture. My mother would insist that she had errands to run and would leave for three or four hours at a time. We did not have family or friends on that side of the river; nor did I ever see the groceries and envelopes that came from our other errand runs. Looking back, my heart aches to think that she may not have had errands but more likely needed a reason to leave the critical onlookers. At the same time, I believe their criticism was warranted and necessary.
In the salon, the stylists treated me like their own daughters and insisted I show respect with "yes, ma'am" and "no, ma'am." My newfound aunties asked about school, sports, and gossip among my friends. They were impressed with my straight As and the number of books I could read. They loved that I was athletically talented and would tease that the boys would have difficulty keeping up with me. The salon was my first witnessing of the phrase "Black excellence."
The stylists would ask, "Are you sure you want a relaxer? You want your hair to be bone straight? We could keep a bit of texture in it." I wanted so badly to have the perfectly straight hair of my family members and classmates. Their fine-textured hair, light blue eyes, fair skin, and angular noses were the standard of beauty that I found myself both suffocating in and never getting enough of. It was my first high.
Stronger than my desire to look exactly like those around me, however, was my desire to please others. Hesitantly, I would reply, "Whatever you think will look good."
"Yeah, let's keep a little texture in it," the stylists would insist every time, without fail. As an eight-year-old child struggling with the budding self-hatred of internalized racism, I detested this. I wanted the chemicals to strip away every ounce of Blackness they could find so I could finally be considered beautiful. As an adult who now holds an immense amount of pride in my Black heritage, I am grateful for their insistence. My aunties forced me to drown in the spirit of our community until I was finally able to see it for all its glory.
The chemicals burned my skin, breaking the bonds of my hair so the stylists could reshape it into something I felt was more acceptable. I sat in the padded chairs, head on fire, until the flames were ready to be put out.
In between these long salon days, I was tasked with taking care of my own hair. I tried my best to brush, oil, and wrap as the ladies in the salon had taught me, but my small, uncoordinated hands could never re-create their masterpiece. I grew frustrated as my coils transformed into foul-smelling mats, which I would regretfully attempt to hide from classmates and teachers.
Again, my hair could have been held in court as evidence of child neglect. I could see photos of the carpet rug my head had mutated into projected onto a big screen for the judge and jury. This was followed by evidence of our dirty house, filled with cigarette smoke, mice, and moldy piles of dishes. I cried in my bathroom, pulling harder and harder at the strands, adding more oil between attempts. The pain meant nothing if I could somehow brush my hair into the silky threads of my white family and friends. Nothing mattered if I could believe I was beautiful. After hours of tears, I would collapse into a heap on the wool-covered floor, hating the body I was born into.
This cycle continued throughout my childhood until I finally gave up. It was exhausting and expensive. I was tired of burning myself for the approval of others. I was lucky that the internet and the subsequent Natural Hair Movement had started to grow as I progressed into my teen years. Late nights of web surfing led me to forums of other Black women, who, too, had grown tired of the constant self-hatred. I read about conspiracies of ancient queens in Africa whose mummies had evidence of scarring from the hair chemicals we continued to use in the present. I found pictures of women who had reclaimed their identities, boldly shaving their heads bald and allowing the chaos of our beautiful Black hair to slowly take over like a garden blooming in the late spring.
I had never seen women celebrated for their brown skin and wild hair. I was filled with such envy.
"But what are you going to do with it after you cut the ends? Won't it look crazy?" my grandmother, and best friend at the time, asked my fifteen-year-old self after I explained the multi-year-long plan. I had chosen to transition my hair rather than shaving it off. I would grow out my natural, virgin hair while keeping the frail but straight ends attached, styling it so it would be less noticeable.
I held close to a strict regimen that would protect my hair while it was growing. I used the hidden money under my bed to travel to beauty supply stores on the other side of town, paying for hair products that my family had never heard of. I spent hours in the night frantically reading, foaming at the mouth, to gain any piece of information I could get my hands on. The days seemed to stretch into an eternity as my coily hair grew one-quarter of an inch each month. I grew my hair for two years, abstaining from any heat or chemicals, until I was ready to put it all behind me.
That day, I dug my hands into the thick tropical-scented cream and applied it to my heat-damaged ends one last time. Section by section, I slowly and deliberately detangled the strands with a wide-toothed comb. I wanted to lay a perfect foundation for what was to come, taking immense caution with every pull of the comb. I rinsed the cream out with lukewarm water, just as my aunties on the internet had taught me. I stared at myself in the mirror, seeing two truths at once looking back. I saw the part of myself that was deeply aching for love and acceptance: the years of struggling, telling myself that "beauty is pain" and what I should strive for most. I also saw a future of new beginnings, discomfort, and growth: a future filled with acceptance and discovery. 
The next hour was spent slowly trimming away every strand of chemically relaxed hair I could find. Each clip of the scissors was another day of self-hatred shed from my aching shoulders.
I stared into the reflection of my tear-filled almond eyes, as dark as the night.
She stared back.
"It's nice to meet you."  
Bibliographical and External Links
Destiney Kirby is a senior medical student in the Bronx who is pursuing a career in family medicine and public health. She is an emerging creative nonfiction essayist who explores the parallels between her past life and the one she created in her young adult years. Her work has been published in Pulse-Voices from the Heart of Medicine and Ad Libitum Art & Literary Magazine.
| | |
| --- | --- |
| ROOM is entirely dependent upon reader support. Please consider helping ROOM today with a tax deductible donation. Any amount is deeply appreciated. | |