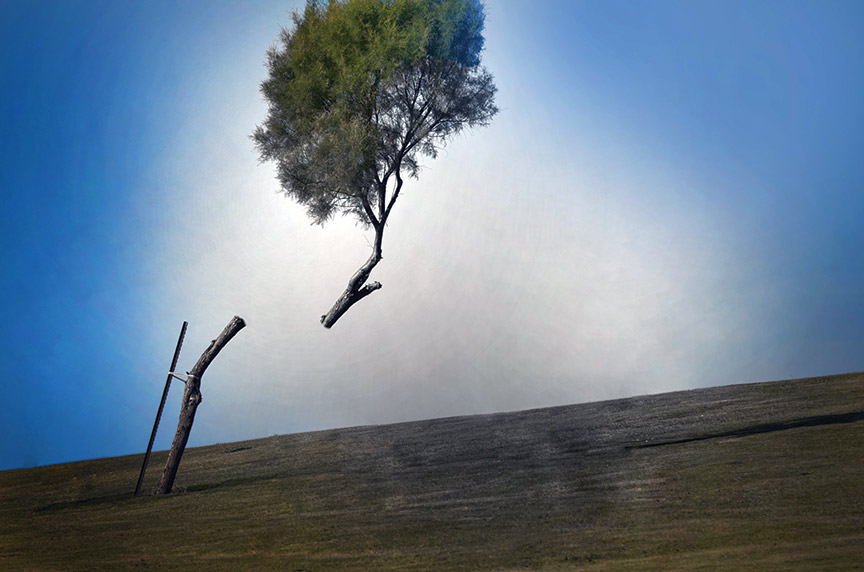 ROOM:
2.22
I live directly across the street from our neighborhood elementary school, and on 9/11 I sat on this school's playground with my young children as they circled in a mix of playfulness and aimlessness. They knew something terrible was around: delivered home from school at midday and now this playground eerily empty. A security guard, full of intimidation, questioned me: why were we there, where did we live, etc. Shocking to me. All of us scared. I pointed to our house directly across the street and explained I wanted to take my children away from the images, the endless rerunning of crashing towers and falling-off people. 
Galway Kinnell (who lived in sight of the towers for twenty years) in his poem (2002) "When the Towers Fell" described the attack as follows:
The plane screamed low down lower Fifth Avenue, lifted at the Arch, someone said, shaking the dog walkers in Washington Square Park, drove for the north tower, struck with a heavy thud, releasing a huge bright gush of blackened fire, and vanished, leaving a hole the size and shape a cartoon plane might make if it had passed harmlessly through and were flying away now, on the far side, back into the realm of the imaginary… The towers burn and fall, burn and fall—in a distant shot, smokestacks spewing oily earth remnants out of the past.
This catastrophe for many of us, most of us, was a moment of juncture, before and after forever: 
On November 9, 1938 (the date known as Kristallnacht), the poet Paul Celan was on his way to France, where he intended to prepare for medical studies. His train passed through Berlin as the pogrom was taking place, and he later wrote of seeing smoke that "already belonged to tomorrow"(Franklin, 2020).
In this essay I will explore several poems as they mark a moment of estrangement, terrible disjuncture.
"I'm Explaining a Few Things" was written by Pablo Neruda (1904–1973), a Chilean poet living in Madrid during the Spanish Civil War, 1936–1939. 
The poet begins his poem, 
You are going to ask: and where are the lilacs? 
and the poppy-petalled metaphysics? 
…the fine, frenzied ivory of potatoes,
wave on wave of tomatoes rolling down the sea.
He goes on to say:
I'll tell you all the news.
Neruda announces he has turned from poppies and lilacs, tomatoes, and potatoes to "the news."
Recounting his news, explaining why his poetry must lose its vibrant beauty as now in August, on the 27th, the aerial bombing has begun. 
And one morning all that was burning,
one morning the bonfires
leapt out of the earth 
devouring human beings—
and from then on fire,
gunpowder from then on,
and from then on blood.
Bandits with planes and Moors,
bandits with finger-rings and duchesses,
bandits with black friars spattering blessings
came through the sky to kill children
  and the blood of children ran through the streets
  without fuss, like children's blood.
This poem takes us to the first moments of fire, when a line is drawn separating before and after—written in the very-very now—a time of rupture, the opening volley of a war that will overtake Europe for the next nine years. One historian wrote: "The Spanish Civil War was the first civil war fought in Europe in which civilians became targets en masse, through bombing raids on big cities" (Graham, 2005). Neruda captured this horror as he wrote "bonfires/leapt out of the earth," describing fire seemingly coming from inside the earth, as aerial bombing wasn't imaginable by the Spanish civilians; "from then on," repeated three times, communicates that time has irrevocably changed and endlessness begun. 
Noor Hindi, a young Palestinian American poet and journalist, enrolled in an MFA program, wrote the following poem (2020): 
Fuck Your Lecture on Craft, My People are Dying
Colonizers write about flowers.
I tell you about children throwing rocks at Israeli tanks
seconds before becoming daisies.
I want to be like those poets who care about the moon.
Palestinians don't see the moon from jail cells and prisons.
It's so beautiful the moon.
They're so beautiful, the flowers.
I pick flowers for my dead father when I'm sad.
He watches Al Jazeera all day.
I wish Jessica would stop texting me Happy Ramadan.
I know I'm American because when I walk into a room something dies.
Metaphors about death are for poets who think ghosts care about sound.
When I die, I promise to haunt you forever.
One day, I'll write about the flowers like we own them.
 As described above, Neruda came to a similar conclusion; the flowers and beauty (and the craft) must go as they are irreverent, irrelevant. Neruda's poem marks his transition from a poet to a reporter-activist, writing "the blood of children ran through the streets" and in the next line "without fuss, like children's blood." The pause between "like" and "children's blood" creates a stammer, a gasp—how can we turn to metaphor in the face of this atrocity?
Noor wants to own, to feel the pleasure and power of the possession of the flower; Neruda determines to give up sensual beauty. Both grasp the wrongness, the hollow metaphor of beautiful words in the face of murdered children. John Felstiner (a literary critic) wrote "reality overtook the surreal" (1995, p. 33).
And what to think of Theodor Adorno, who caused an enormous uproar (still continuing) when he responded to Paul Celan's* "Todesfugue/Deathfugue" (1947) with the following statement: "To write poetry after Auschwitz is barbaric" (1949/1983, p. 34).
                 Deathfugue
Black milk of morning we drink you
                                             evenings
we drink you at noon and mornings we drink
                                                        you at night
we drink and we drink
we dig a grave in the air where one lies at ease
Celan's central metaphor, "black milk," winding through the entire poem, represents the primal substance of life, yet it may, in fact, be what the prisoners had to drink. We think of milk as sustaining, dance/music (fugue) as enlivening, each representing life and living—but now turned dark, deadly; Celan brilliantly, simultaneously conveys brutal reality and the possibility of imagination.
Adorno's (belonging to the Frankfurt School, a Marxist philosopher) point is that to lose sight of visceral reality is barbaric, but Celan and Noor and Neruda add (implicitly) it is also barbaric to only grasp the realistic detail, the horrible factual detail.
As psychoanalysts, poets in a sense, we must manage this same tension between the veridical, the real times we live in and what we and our patients confront—and the poetic, i.e., how much metaphor (unconscious meaning) is right, sensitive, and ultimately kind to speak to.
Metaphor gives us a way, a figure of speech, to form and create new combinations of ideas. Metaphor can only come, the meaning only conveyed after the indescribable has found its words. Each of these poets creates—or should we say, re-creates—with words in exquisite detail the catastrophe at hand. Seamus Heaney wrote of Elizabeth Bishop's poetry: "Things as they are seem to be even more themselves once she has written them" (1995, p.168).
In our work as analysts we need to do similarly, first to absorb the actual event(s) brought to us without judgment or contradiction or correction—or even "understanding." We have developed terminology for this effort: reverie, holding, empathy, projective identification, but it, too, is hard to describe. I do know that it must be unconditional, the attention to detail essential, an acceptance, a taking in of whatever object the patient brings to us. 
This is not unlike what we expect of ourselves in all our work, true. But my point is that it is most troubling and painful when what we are exposing ourselves to, both patient and analyst, is indescribable—and we often want to pass through this initial experience, to reach for or cling to the metaphor before the reality has been allowed full measure. This experience of catastrophe is almost always a deep mind-body one for the analyst and, of course, for the patient to start with. This then is what I began to do on the children's playground, now more than twenty years ago, what we are all requiring of ourselves, "What has really happened to us?" 
Only after this is attempted, perhaps mostly successful, can we allow ourselves to understand in the ordinary way, called "making an interpretation." Many interpretations we make are never said out loud; much work is done in our thinking before we can speak. But the beginning of meaning, the making of connections and finding symbolism can be painful, and it is crucial that the analyst knows this. We ask the patient and ourselves to take on difficult work, resting on the premise that we have experienced acutely and from the inside the reality that is brought to us. I think when this happens we may have the freedom to broach the personal, the unconscious of the other—finding the metaphor that is conceived from experience. 
Bibliographical and External Links
Shelley Rockwell is a training and supervising analyst in the Contemporary Freudian Society and the Washington Baltimore Center for Psychoanalysis. She has a long-standing interest in the relationship between literature and psychoanalysis, particularly in poetry and the work of a poem both in the reading and making, which invites a truthful look at the inside and outside of experience.

 

Email: srockwell33@aol.com

*"From his iconic 'Deathfugue,' one of the first poems published about the Nazi camps and now recognized as a benchmark of
twentieth-century European poetry, to cryptic later works…all of Celan's poetry is elliptical, ambiguous, resisting easy interpretation. Perhaps for this reason, it has been singularly compelling to critics and translators, who often speak of Celan's work in quasi-religious terms" (Franklin, 2020).
| | |
| --- | --- |
| ROOM is entirely dependent upon reader support. Please consider helping ROOM today with a tax deductible donation. Any amount is deeply appreciated. | |