ROOM:
10.18
TAKING THE U.S. PERSONALLY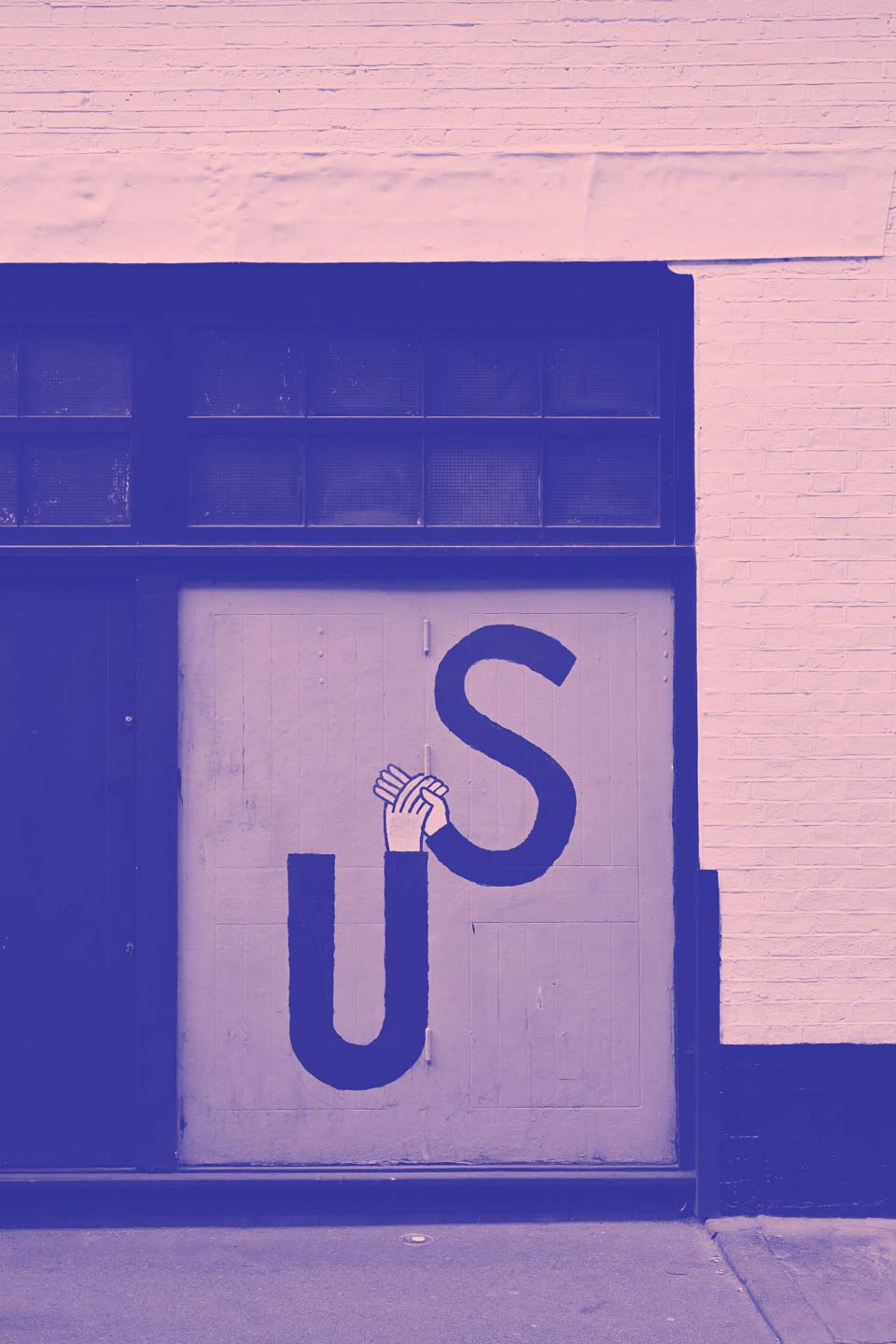 Politics is about power
— who has it
and who doesn't.
Politics is also about ethics, fairness, justice, and governing assumptions about the state of nature.
Politics, it turns out, is highly personal. Malignant narcissism, and the absence of a moral compass, in the chief executive guarantees corruption and abuse of power.
I am a professor emeritus with more than thirty-five years of writing, teaching, and research focused on the nexus of psychoanalysis, organizational politics, and culture. Beyond pathologizing the individuals we hold accountable (on the right and on the left) for the crisis we are navigating, I feel it is critical at this disturbing historical moment to highlight the degree to which public space, what Jürgen Habermas calls the "public sphere," remains vital to upholding American democracy in the face of despotism. Consider the protests of the #MeToo movement, the #NeverAgain movement, and, of course, the #NotMyPresident demonstrators, to name a few. All of these collective political actions represent an awakened, if not alarmed, American citizenry reclaiming public space — physical locations such as public squares, streets, and parks and even virtual locations, such as the internet and ROOM. This "occupation" of public space is critical to the opposition and resistance to oligarchy and authoritarianism. To put it succinctly, these dissenting actions of ordinary Americans are deeply personal and political, representing the intersection of private selves and public space, internal world and external reality.
The act of reclaiming public space is rooted in personal agency and the integrity and morality of the private self. The latter referring to Kantian ethics and the imperative to treat others as ends in themselves, rather than as means to an end, or as instruments to be manipulated and deceived. In addition, the repossession of public space for liberals and progressives signifies an acknowledgment of personal and political tensions and divisions in a rapidly changing Western democracy. Ethnic, racial, cultural, and religious diversity depends upon democratic norms and values. These rules and customs are typically protected by agents of democratic institutions and represent beliefs and practices necessary to promoting the health and well-being of the body politic. Imagine a public space, a Winnicottian potential public space, where private selves are highly regarded and respected as relational, transformational, and curious sentient beings — a public space where the dynamics of self and other are experienced as intersubjective and where identity-group boundaries are sufficiently sturdy to withstand differences, debate, dialogue, interaction, meaningful communication, and consensual validation. This is the ideal — political and personal, public and private — of democratic institutions buoyed by democratic selves.
In conjunction with this potential public space, there exists in America an equally powerful paranoid and persecuted force within the public space — think Charlottesville and the neo-Nazi, alt-right, white power demonstrators and the never-ending Trump rallies — a fearful public space where private selves are trapped in shared feelings of paranoia and hate, personal and political abandonment, low self-regard, and rejection. These private selves are governed by splitting off good from bad feelings, Manichean black-and-white thinking, and regressive unconscious processes, in which half-heartedly contained paranoia eventually shifts into hatred and dehumanization of the other. This dynamic results in violent protests that are impulsive, reactionary, explosive, and deadly. Locating a convenient scapegoat, via projection and projective identification — whether ethnic group or political adversary — is commonplace. While private selves of potential public space move consciously toward the other, private selves of paranoid and persecuted public space move either unconsciously away from or tragically against the despised other (fight or flight). As Hannah Arendt warns, "Totalitarianism has no spatial topology: it is like an iron band compressing people increasingly together until they are formed into one" — a homogenous fascist state of anti-thinking and oppression.
What are the psychosocial roots of public space? There is certainly a juxtaposition between public and private space. The idea of public space, I suggest, ought to be reimagined and reframed as potential and facilitative on the one hand, paranoid and persecuted on the other — the latter is a reflection of America's present state of political polarization and the absence of a center. Thus, it is not simply the physical presence of public space that is noteworthy; it is also the perceived and shared assumptions of private selves (participants, citizens) and private space in the psychological reality of groups. We might ask: Do group members see themselves as agents of political change and transformation? Or do they see and feel themselves as collectively persecuted by the dreaded other? Do citizens generally feel included and welcome at the boundary of public space? Or do they feel excluded and unwelcome, anxious and fearful of engaging the other?
When I speak of private space, I refer to the metaphoric processes of mind and body that ideally promote a safe haven, much like a cocoon, for the emerging and evolving private self. The common individual assertion "I need my space" symbolizes this notion of private space.
As Beren and Bach described in their essay, "Psychic Space" (ROOM 6.18), the private self requires respite from intrusion and an opportunity to "collect one-self." The core self, one's sense of identity, is comprised of values, perceptions, assumptions, meanings, and motives that hold steady over time. The private self is safeguarded by private space — an introjected and internalized world, ideally, of affirming relationships. However, it is the disturbance of this private space by way of inadequate nurturing or abuse that renders the self vulnerable, defensive, de-centered, dissociated, and anxious. Paradoxically, one does not retreat into private space alone; one does so with imaginary others. And when one enters the public space in protest, one does so along with the private self. Consequently, anxiety and psychological regression inevitably and unconsciously occur to some degree whenever we join a group or institution.
From this perspective, one might say that public space is, in effect, understood as a large group of individual selves bounded by a range of holding or private spaces that enable or disable, motivate or inhibit individuals to join public spaces with real and imagined others. It is the quality of the individual's initial holding environment that predisposes one to agentic capacity moving toward or away from public space and the body politic. Democracy necessitates citizens with this agentic capacity and political leaders who appreciate and respect the values and norms inherent of the constitution and the requisite institutional checks and balances on power and personality.
If nothing else, it is my hope for this essay that we are reminded that the primary task of our political leaders is that of holding — as in Winnicott's holding environment — the personal and political center of the body politic, leading at the boundary between people and their group identities (left and right), between institutions and nation-states, taking up the psychoanalytic position of the playful and imaginative third, linking subjects and objects, selves and others. This is the role of reparative political leadership found in such influential leaders as Mahatma Gandhi, Abraham Lincoln, Mustafa Atatürk, Franklin Delano Roosevelt, Eleanor Roosevelt, Nelson Mandela, Martin Luther King Jr., and Yitzhak Rabin, to name a few.
Knowledge of psychoanalysis and democratic theory gives us power and agency through which we can begin to think of policy solutions in the midst of the unthinkable and empowers us to elect those who might lead us there. ■
Bibliographical and External Links
Michael A. Diamond, PhD, is professor emeritus of public affairs and organization studies, University of Missouri, Columbia. He is an organizational consultant and author of Discovering Organizational Identity (University of Missouri Press, 2017) and is currently a faculty and steering committee member of The Gould Center for Psychoanalytic Organizational Study and Consultation at IPTAR.
Photograph by Toa Heftiba
| | |
| --- | --- |
| ROOM is entirely dependent upon reader support. Please consider helping ROOM today with a tax deductible donation. Any amount is deeply appreciated. | |