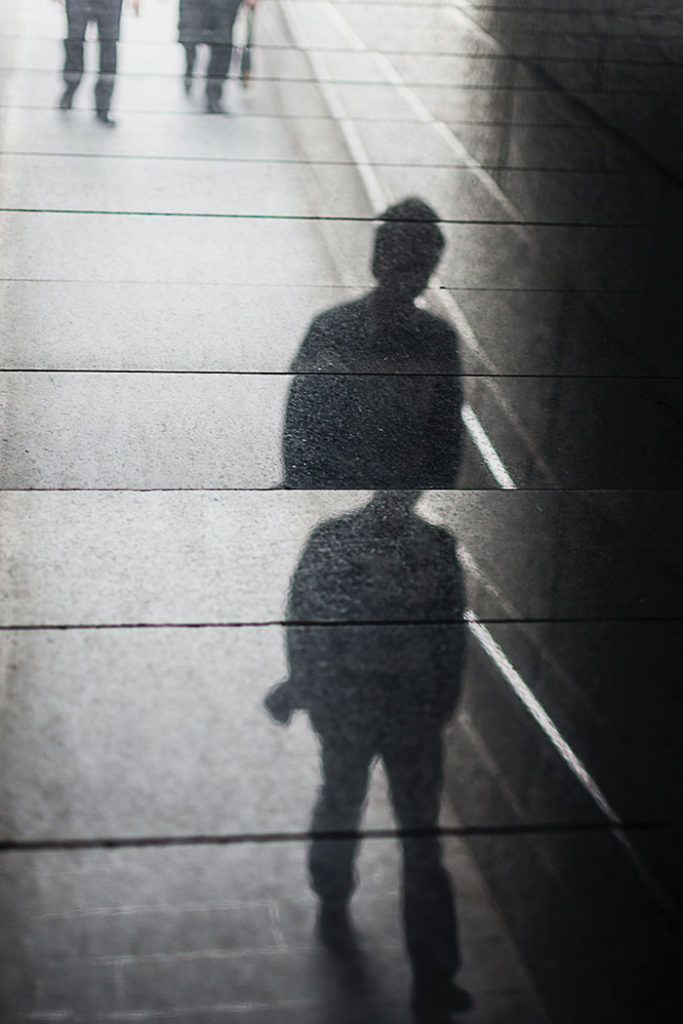 ROOM:
10.22
Will You Go to the Bank with Me?
1.
Mr. Stevens, an elderly man who stands a head shorter than me, is helping me to cross the street. 
"It's safer to cross here," he says, placing his hand gently on my elbow. "You have to be careful when there's construction." I follow his lead as he steers us across an empty portion of the street just before it turns into a busy intersection, a visual confusion of traffic cones, temporary road markings, and piles of tarmac and gravel. I do not look left or right for oncoming traffic, my body implicitly trusting his judgment, his hand a reassuring pressure upon my arm.
Under the overcast, late-morning sky, we reach the other side. Mr. Stevens lets go of my arm. We walk side by side toward the entrance of the bank. Earlier this morning, Mr. Stevens had asked me to accompany him there. The automatic doors, sensing our approach, slide open in a single swift motion. He goes to stand in front of an automated banking machine. "I need to find my card," he says, reaching into his front, then back pockets. "I think I've lost it. There might be a hole…"
I wait, standing several steps behind, as Mr. Stevens inserts a card into the machine and begins pressing upon the screen. I notice two brown-red spots on the back of his blue-striped shirt just above where it is tucked into the waistband of his dark blue jeans. 
My feet wide, my shoulders pushed back, I feel protective of him. I am standing guard. 
2.
During the months I spent immersed in the inpatient psychiatry ward as an ethnographer, I often stood at the periphery of hallways and rooms, watching the staff and patients live and work at a rhythm shaped by the ebb and flow of symptoms, the application of therapies and medications, the pressure of administrative needs, and, weaving through it all, the pace of human life and conversation. 
In the day room, a tall, African-Canadian man is talking to two Asian-Canadian women. Standing, they look intently at the yellow plastic patient identification bracelet worn on the man's left wrist. "You have to take this off," he says, giving his bracelet a tug, "when you go out looking for a place to live. When the landlord sees your band, he's gonna know you're from the hospital, and he's gonna give the apartment to someone else, no doubt about it." He takes a deep breath. "I made that mistake. The landlord saw it, and everything was over." 
He bows his head. The women regard him silently, his words sinking in. 
3.
Mr. Stevens's yellow identification bracelet is visible as he extends his arm across the counter, handing his bank card to the teller. I think back to the man who was promptly rejected from being considered for the apartment. I wonder if everything is over for us, too. 
"There was a withdrawal of a thousand dollars that I didn't make," says Mr. Stevens. "I'm trying to find out what that's about. I've been in the hospital for the last three months, you see. I've been sick." 
"Oh, I'm sorry to hear that," says the teller, taking Mr. Stevens's card. She glances at me. "We've known each other for thirty years." 
"Since you were at Hillside and Park," says Mr. Stevens.
"Yes," she replies, smiling. "That was before the branch moved."
"I keep coming back because the service is so good," Mr. Stevens replies. 
The teller reassures him that they will file an inquiry into the transaction. Two weeks have already passed, and no other transactions have been made. "Don't worry," she says. "Is there anything else we can help you with?" 
"Yes, I'm interested in having more information about a mortgage," he says. 
"I can help you with that," intones a man standing nearby. He is tall, younger than Mr. Stevens, and wearing a black suit, a white collared shirt, and a name tag identifying him as a manager. "Why don't you come into my office?"
Mr. Stevens and I enter his office as he holds open the door. In the room the bookshelves and desk are made of dark, varnished wood. Upon the wall are framed diplomas and certificates in accounting and financial planning. Sunlight streams in from the window spanning the length of the office, showing a view of the street below and the hospital facing opposite. We are at the same level as the inpatient psychiatry ward. I imagine that one of the windows from across the road is probably that of the day room.  
"I used to be an accountant," says Mr. Stevens. The manager invites us to sit in the chairs facing him. 
They discuss Mr. Stevens's interest in purchasing a condo in a new development close to the hospital. I have seen pre-sales for the development advertised on billboards. For a mortgage of twenty-five years, the monthly payment would be $795. 
"That's like paying rent," says Mr. Stevens. "In twenty-five years I will be…" He pauses, looking upward. "I will be almost a hundred."
After the meeting, we return to the main hall of the bank branch and pass through the sliding doors. Out on the sidewalk, Mr. Stevens turns to me. "Do you have time?" he asks. 
I nod. 
"Do we have to go back?" 
I shake my head. "We still have some time before lunch on the ward." 
"Let's go there," he says, pointing to a burrito shop ahead of us. "I don't want to go back for lunch." Turning away from me, he makes for the front entrance. I quicken my pace after him. 
4.
"I am afraid sometimes to walk with him on the street," she says. "Not afraid of him, but people on the street…the looks that we get."
In the coffee shop, she is telling me about her middle-aged son. He has a diagnosis of schizophrenia. 
"The stigma has been the worst. We go into a restaurant. We are sitting at the table. We wait for the menus to be brought to us and later the food. He is talking to himself. And other people are looking at us. What is wrong with talking to yourself?" she asks. "I do, sometimes, when I am alone. Now that I'm older, I talk to myself even more." 
I would recall her words later, when a taxi driver begins to mock an elderly man I am accompanying. He was counting aloud, as though only to himself, the number of trees passing by.
5.
A young man, the burrito maker and cashier, waits patiently for our order behind the counter.
"There are so many vegetables," exclaims Mr. Stevens. He orders a vegetarian burrito and turns to me. "Would you like something? It would make me very happy if you got something." 
I reply that I have a packed lunch stowed in my bag on the ward but pick a small packet of bite-sized chocolate brownies for dessert. Mr. Stevens insists on paying. He takes a knife and fork as I peel several layers of paper napkins from the dispenser. 
Sitting down, Mr. Stevens promptly begins cutting his burrito into thirds. "Please take this," he says, offering me a portion with a plastic fork and knife. I receive it with my hands.
"I wanted to come here because it's healthy," he says between bites. "After this I won't be able to eat anything for the rest of the day." 
I finish my third of the burrito and open the packet of brownies. 
"I wonder if they have a catering menu," he muses, rising from the table. The young man behind the counter takes notice and strides over. 
"Do you have any catering menus?" asks Mr. Stevens. "I am thinking of hosting a party in the fall."
The young man nods and disappears into the back of the shop. Within a few moments he reappears, holding at least a dozen folded menus, which he hands to Mr. Stevens, who thanks him.
We have now certainly stayed past the start of lunch upon the ward. On our way out of the burrito shop, we walk by a social worker, a staff member on the ward, who is eating at the window.
6.
"Here nothing ever moves," says Mr. Stevens softly. "I have been here three months." 
"Do you talk with your treatment team?" I ask, remembering that this is a common issue voiced by patients.
"Yes, all the time."
"You talk with them all the time, and nothing moves?"
"Yes," he replies. 
Weeks later, on the day of his discharge, I would watch a nurse use scissors to cut the yellow patient's band from Mr. Stevens's outstretched wrist. "Goodbye, everybody!" he would call out before turning to leave the ward.
Months later, the weather significantly colder, Mr. Stevens would greet me as I walk down the hallway of the inpatient ward. Like so many patients, he has returned once more to the hospital following another episode of worsening symptoms. "Jia–meng, Jia–meng, please help me," he would say, his eyes reddened and brimming with unshed tears. "I can't bear it. The medications…I feel I am not myself." I would touch his elbow, and we would walk up and down the hallway together as a distraction from the nausea and dizziness. 
But today specters such as medication side effects exist only in the future. Today Mr. Stevens is standing beside me in the day room, and he is smiling. Morning light streams in from the windows behind him. "I know your job is to do research, but will you come to the bank with me?" he asks. "I can only go outside when friends or family members take me." 
Promising that we will be back for lunch, we get permission from his nurse to go out of the ward on a pass. She presses the buzzer to unlock the heavy metal doors. We keep pushing against them, using the weight of our bodies, until they swing open. 
7.
Outside the burrito shop, when we step onto the sidewalk once again, the sun is shining more brightly. We cross the street to head back to the hospital. As we near the front entrance, Mr. Stevens chooses a longer footpath. Walking a few paces ahead of me, he turns around and stands with his hands in his pockets, lifting his face to the noon sun. 
Silently, I follow suit, closing my eyes and tilting up my chin in kind. In the middle of the path, under the windows of the inpatient psychiatry ward, we list toward the sun, catching its light. Upon my skin the sensation of warmth spreads, and spreads, and spreads. n
Bibliographical and External Links
Jiameng Xu was born in Chengdu, China, and migrated to Canada at the age of seven. Raised in Ottawa, they studied at Queen's University in Kingston, Ontario, earning a Bachelor of Science. They also studied at McGill University, where they completed medical school and PhD studies in rehabilitation science. Their dissertation was an ethnographic study centered on an inpatient psychiatric unit, of the experiences of family caregivers of persons living with mental illness. At present, they are a first-year resident in psychiatry, living, training, and writing in Vancouver. They are continually seeking to participate with others in spaces at the intersection of art, healthcare, and the humanities.

Email: jxutree@gmail.com
| | |
| --- | --- |
| ROOM is entirely dependent upon reader support. Please consider helping ROOM today with a tax deductible donation. Any amount is deeply appreciated. | |