ROOM:
6.23
Phenomenology
by Stephanie Niu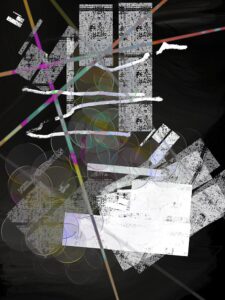 is the kind of word that vanishes
from my mind as soon as I look it up.
I Google Michel Leiris. No faster way
to forget a man. I try to follow
the tenuous thread of the sentence.
Sentience must be a similarly delicate
string, airborne maple seed.
The first time I caught snow
on my tongue and tilted my head back
to watch white whirl from the dark
I thought, whose globe am I in?
The flight only visible in street lamps' lobes
of light. Any flake I touched was gone.
Any flake the world touched was gone,
whirl stilled, seconds pooled
to leave nothing but the sound
gone, and the word. My mind left
with only a gallery of words.
_________________
The italicized text quotes Gaston Bachelard's introduction to "Poetics of Space," p.11-12. 
The introduction references J.B. Pontalis' "Michel Leiris ou la psychanalyse interminable," 
which describes Leiris as a "lonely prospector in the galleries of words."
Bibliography and External Links
Stephanie Niu is a poet and digital storyteller from Marietta, Georgia. She is the author of Survived By, winner of the 2023 Host Publications Chapbook Prize, and She Has Dreamt Again of Water, winner of the 2021 Diode Chapbook Contest. Her poems have appeared in Copper Nickel, Waxwing, Ecotone, the Georgia Review, and elsewhere. She is currently completing a Fulbright scholarship on immigration and labor history on Christmas Island in the Indian Ocean.
Email: drbakerpitts@gmail.com
| | |
| --- | --- |
| ROOM is entirely dependent upon reader support. Please consider helping ROOM today with a tax deductible donation. Any amount is deeply appreciated. | |