ROOM:
10.22
Skiffieworlds
by Joanne Brooks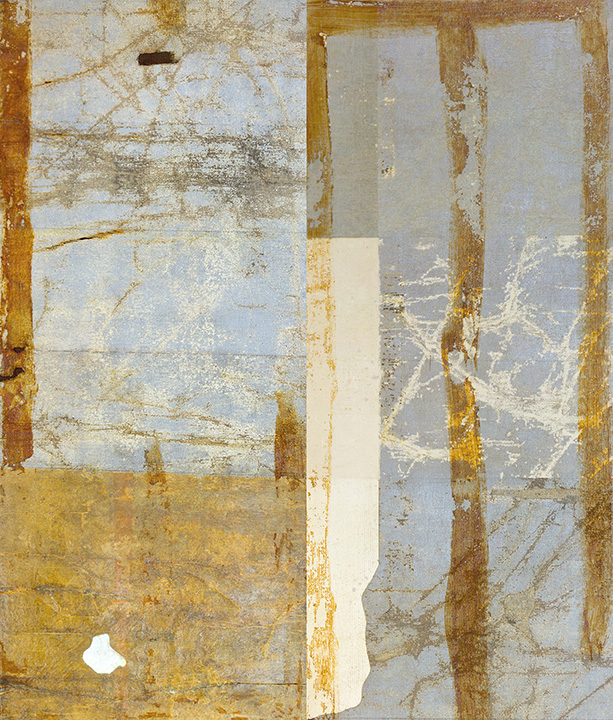 May the great lord god of movement
carry us safe,
on all the choral waters of this world
                                                                  The Birlinn of Clanranald
(1)  
Sucked in by sea-suddenness
          the skiff leaves the skeers of Birling Carrs,
four rowers in time
          then a bow-side 
turn and she lifts on a wave.
          An oar rows air,
she lifts again. A wave.
          Another wave slaps her
thick, lifts and rocks her,
          swallows her in its salty swell,
carries her out to the five fathoms line
          where at last she is all the sea's.
You should see them pull,
          with the long-lost fear of childhood they pull 
in time, yet useless to strike this path
for the beacon on Bracken Hill.
Shore Base to Pride of Aln
          Shore Base         Over
(2)
There goes Mussel Scarp of Coquet Island,
the painted puffins, mourning selkies, 
North Steel and Dovecote Hole.
          And easy
There go the lights of Cromer Ridge
give it all you've got
                    round the headland of Dungeness
          And pull
(3)
In the shallows 
shells wash up 
ears fill with water
you listen to later 
as a voice memo.
He washed up on Tean,
between Tresco and St Martin,
bloated as bladder wrack
between high and low 
water mark.
Herring gulls listen
between screams,
they will never let on,
going around and around
hearing everything
saying nothing.  
                       There goes another boy.
(4)
This is no metaphor
this is no joke
the albatross has a plastic bag
twisted around its throat
(5)
Is this a dream, Elliot?
          Lefkothea sails deeper into the cave
of dreams. Hello
Hello?  An under-earth basilica
where sea and swallows
swoop and fire themselves
          into stone. Gone,
then appearing from cracks, swirling and urgent.
We climb out of the boat 
into a sea-cup, 
          a sea-cave
where selkie skins hang on hooks.
We crawl through spurs of stalagmites and limestone
and listen to the inside of the world
inside a shell
in our newly found seal-cloaks.
Bibliography and External Links
Joanne Brooks is a psychoanalyst and psychoanalytic psychotherapist, a member of the Institute of Psychoanalysis, and head of professional practice for the British Psychoanalytic Council. Based in Edinburgh, Scotland, where she has an independent practice, she is a training therapist and supervisor with the Scottish Association of Psychoanalytic Psychotherapy. She has an MPhil in Creative Writing from the University of Newcastle and has exhibited her work at the Northern Poetry Festivals in 2016 and 2017: in 2016 on the theme of Northern landscapes as part of a collaborative project between poets and artists and in 2017 for Steps in Time, a poetry app guiding users on a poem-walk across Newcastle. Her MPhil thesis draws on the work of Alice Oswald and explores the relationship between poetry, the creative process, psychoanalysis, listening, and voice. In her work as a psychoanalyst and poet, she continues to explore and develop these themes.
Email: jbrooks7@me.com
| | |
| --- | --- |
| ROOM is entirely dependent upon reader support. Please consider helping ROOM today with a tax deductible donation. Any amount is deeply appreciated. | |