ROOM:
6.23
The Score
by Diane Raptosh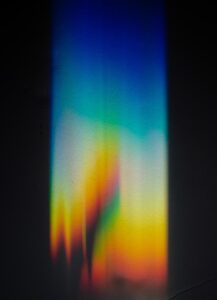 When I become dust, I want to Diane
to be human for Do not repeat where
we were. I want it to shorthand how-to's.
How to upend: first, we re-nature. I want it
to plug for the land while sizing up griefs
of the day. To show how to stand for the self
while penciling notes on the trim of the world:
Why it's queer to feel cared for: It's a fact about
life in America. I would like my own action
verb to bank and clearwing. I want to id
and lever a din that heaps insistence on us
in the spore of its origin story. To have sung
as a sample person sheltering Earth. For you
to have oared these lines by the strobe of Venus.
Bibliography and External Links
Diane Raptosh's collection American Amnesiac (Etruscan Press), was longlisted for the 2013 National Book Award in poetry. The recipient of three fellowships in literature from the Idaho Commission on the Arts, she served as the Boise Poet Laureate (2013) as well as the Idaho Writer-in-Residence (2013–2016). In 2018 she won the Idaho Governor's Award for Excellence in the Arts. She teaches literature and creative writing and codirects the program in Criminal Justice/Prison Studies at the College of Idaho. Her newest chapbook, Hand Signs from Eternity's Yurt, was published in June 2022 (Kelsay Books). dianeraptosh.com
Email: draptosh@gmail.com
| | |
| --- | --- |
| ROOM is entirely dependent upon reader support. Please consider helping ROOM today with a tax deductible donation. Any amount is deeply appreciated. | |